Introduction
After creating a striking WordPress Events Website, the next thing that you need to focus on is to put together a system for your users to easily buy tickets and book spaces for your events. The secret to arranging a successful event is to have a seamless registration process.
WordPress is the world's biggest CMS and a huge quantity of the world's best event management websites is based on it: this means that there are quite a few excellent solutions available freely on the market which will help you set up your event registration system really well.

WordPress Event Registration plugins make the entire process of registration simple and smooth. The best part about this is that you do not have to create your own plugin or hire someone to do so as it offers you a list of Registration plugins to choose from. But how do you know which one will be the best for your needs?
To help you out in selecting the right one, we have come up with a list of WordPress Event Registration plugins in this blog that is widely available.
Before getting into details of the Registration plugins, let's find out the basics:
What is an Event Registration?
Event Registration is a process in which guests formally accept or request attendance at an event.
During this process, attendees are usually requested to fill up a form where they need to mention details such as their names, business titles, preferences and the details that organizers want to collect about their audiences. This not only helps you understand your attendees but also accelerates your ticket sales and simplifies the process of collecting payments for the same.
To add the registration form directly to your WordPress Website, you need the support of a reliable Registration plugin. In the next segment, we will be discussing the importance of a good event registration plugin for managing the event registration process.
Why should you use a plugin to manage your Registration?
WordPress plugins are constantly improving themselves and including the best practices to ensure efficiency. The biggest reason why it is always a good idea to rely on a plugin to manage event registrations is that it saves a lot of time and effort. This is because a

WordPress registration plugin

automates the whole registration process which ultimately saves time and labor.

You can always perform the task manually but in that case, you need to have detailed knowledge of code, whereas a plugin does it without using codes.

Whether you are a beginner or an experienced user, using the right plugin can make the entire system technically more accessible.

It also allows you to manage everything about the registration process directly from the dashboard.
Features of an ideal WordPress Event Registration Plugin include:
An ideal plugin should be able to fulfill your demands and that is why you need to be clear about what you are looking for in the plugin.
It should be easy to use and must be able to satisfy the needs of all types of users, irrespective of his or her experience.

It must be well maintained and updated at regular intervals to protect your site from security threats.

It should also be able to fit itself well with the theme that you are currently using.

A good plugin is well coded and never slows down your website.

It should have a responsive design that suits every device that users use including mobiles, tablets etc.
Benefits of using a WordPress Event Registration Plugin:
WordPress Event Registration plugins make the entire registration process simple and seamless

as you do not have to bear the burden of heavy paperwork. Such plugins

automate

the task of collecting attendee details,

processing payments

and

sending confirmation emails to attendees

.

You can collect specific information about your attendees with registration plugins.

They also help you maintain

registration data and sell tickets

for your events.

Event registration plugins have various useful features that help you

create unlimited registration forms

in no time.

They allow you to

customize

the overall look of the registration form and showcase it based on your preference.

You can keep in touch with your attendees by automatically sending them

email messages as reminders

before the events start.

It also gives you the scope to plan out your physical events well in advance.

It helps you understand your sales levels as well.
The 10 Best WordPress Event Registration Plugin:
WP Event Manager

My Calendar

EventOn

Events Manager

Events Espresso 4 Decaf

Ticket Tailor

EventPrime

RegistrationMagic

Registration for The Events Calendar

The Events Calendar
1. WP Event Manager
WP Event Manager is one of the most popular event registration plugins that is known for its lightweight and scalable event registration management facility. The specialty of the plugin is designed in such a way that it plays both the roles of an event registration and event management plugin with additional functionalities. It is a feature-packed plugin that meets all your needs that may come in your way when you plan to host an event.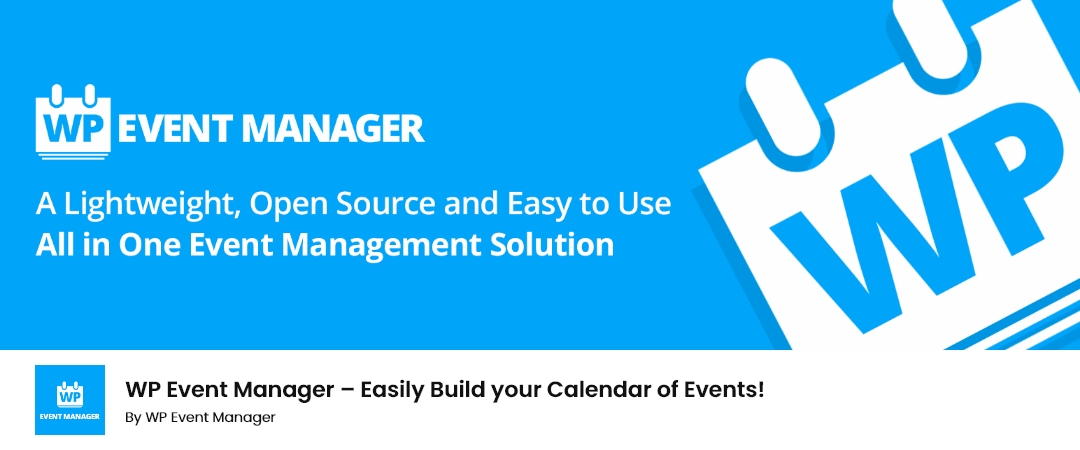 Powerful features it adds to your website include,
Seamless

registration and event management

.

Allows organizers to get the details of the registration data through the

registration dashboard

.

Helps visitors

differentiate

events for which they have already registered and the events they have not.

You can create forms of various types using the

form field editor

to gather necessary details about your attendees.

Allows users to search based on various

filters.

Offers the option to

add your event from the front-end

of your website.

Offers

responsive design.

It is an

SEO-friendly plugin.

It is an

Ajax-based plugin

that offers a smooth browsing experience to its users.

Multi-browser

support (Opera, Firefox, Chrome, and Safari).

Offers an opportunity to

preview

event listings before making it live.

Easy to use and easy to customize.

Allows you to

add, manage and classify

your events easily.

Compatibility with almost all

WordPress themes.
Offers you the facility to connect each of your events with your website.
Once you activate the plugin, a configuration wizard appears that helps users better understand it.
Then, you will be able to access the advanced features through their premium addons that you can get at a very affordable range. These plugins provide a complete solution to your event requirements. Starting from managing ticket sales to displaying a list of your upcoming events in a calendar, everything is taken care of. You just need to select the right amount of features for your, install and get started in minutes.
2. My Calendar
The My Calendar plugin is the second in the list that showcases events on multiple sites through WordPress multisite. The plugin can be easily customized and it is amazingly flexible. It is easy for average users to work with this plugin because of its location manager and notification system.
Integrating My Calendar with My ticket plugin helps you sell your event tickets.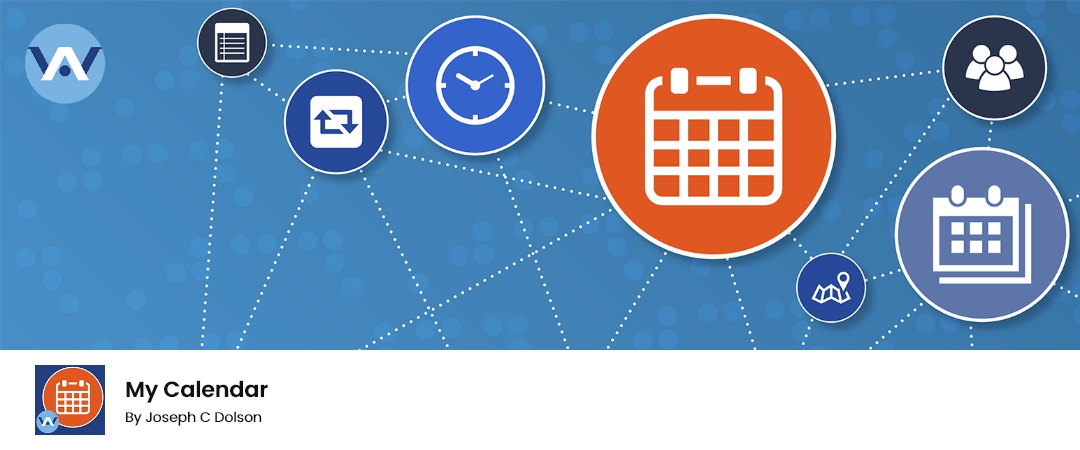 Powerful features of My Calendar include,
It offers both

grid and list view

of events.

Provides

daily, monthly and weekly

views.

Allows you to add a

personalized touch

to templates for event output.

Lets you display your calendar in a

widget form

.

Helps you manage

recurring events

with ease.

Generates shortcodes

to develop customized views of the calendar.

Responsive designs.
Advanced search options.
Apart from the basic features, if you are looking for more advanced features, you can try the pro version of My Calendar.
3. EventOn
EventOn is a business-centric, premium-only plugin that is suitable for those who want to create advanced event calendars. It has powerful features that make the entire event registration process simple. The most attractive thing about the plugin is its variety of designs which is filled with vibrant colors and styles that give your calendar the desired look.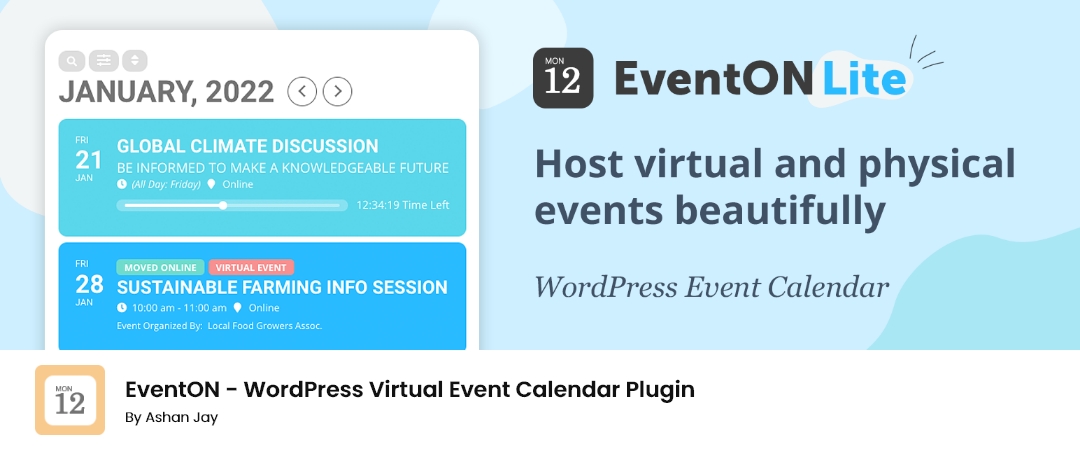 Powerful features of EvenOn includes,
Besides being attractive, it is

functionally rich

as well.

It showcases all the necessary event related information on the calendar making it easy for users to gather event details.

Excellent

user experience.

Suitable for those who

host many events on their website.

Allows you to share events on

social networks.

Lets you activate

PayPal

to help your users make payments for your events.

Apart from beautification, it offers a heavy range of event organizing tools

to help make the event management system easy and seamless.
If you are in search of an event registration plugin that is attractive yet functional then this is the best choice for you.
4. Events Manager
Events Manager plugin is known for its rich features, flexibility and reliability. It offers a range of facilities in event management that includes booking management, a hassle-free registration system, recurring event management, Google Map integration and more. One of the major advantages of the plugin is that, with this plugin, users and guests can add their events easily. Events Manager can be used to build a site that lists public events.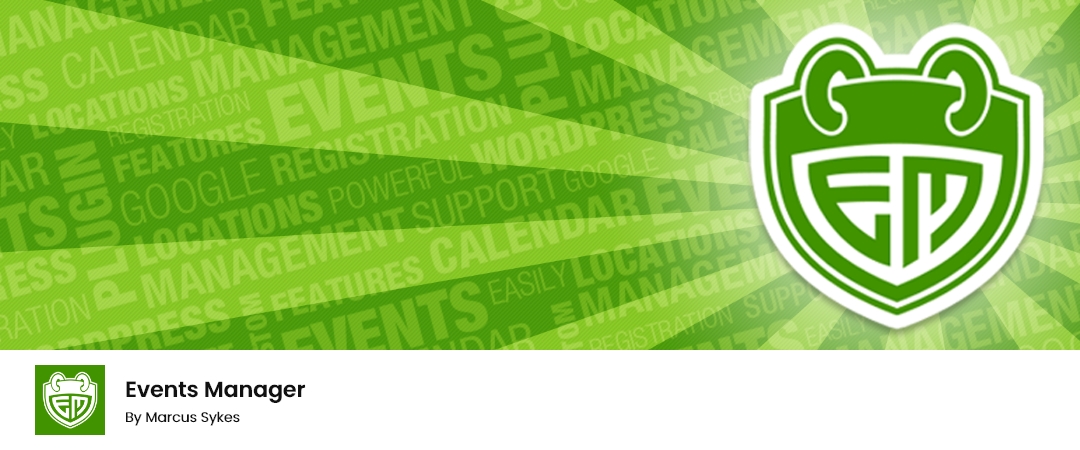 Powerful features of the Events Manager plugin includes,
It offers

custom event attributes

that you can add to each of your events. For instance, you can fix a dress code to your event and your users will be informed about it before they register.

It keeps the

registration data secure and private.

Some of the

premium features

it provides cover

coupon codes, WooCommerce integration, custom booking forms and various payment options.

Smooth

event registration

process.

Allows

recurring and multi-day event registration.
Google Map integration.

Let's you divide your events into various categories for better management.
5. Events Espresso 4 Decaf
The next in our list is the Events Espresso plugin, that is trusted by many users and businesses. It offers a fast and simple event registration process and manages the entire ticketing system. Users can integrate PayPal payment and sell tickets with the help of the basic version of the plugin.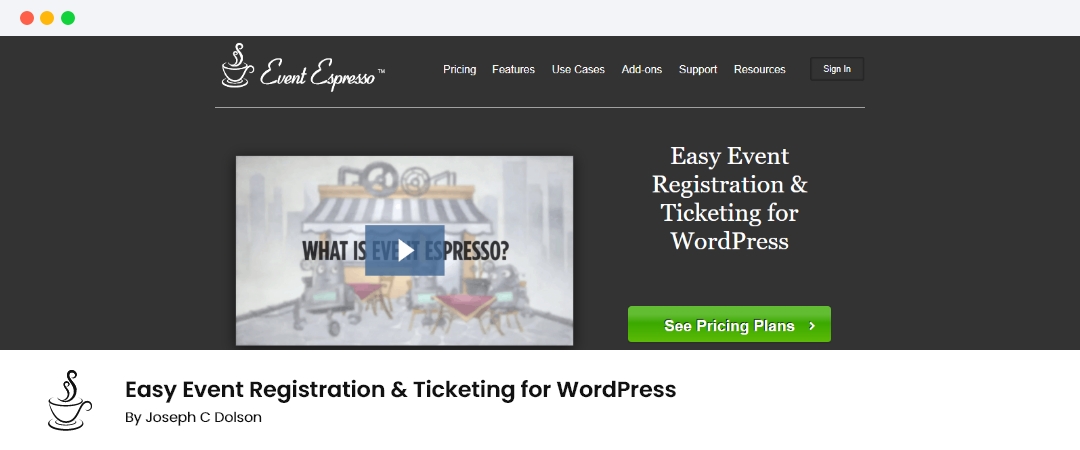 Powerful features of Events Espresso 4 decaf includes,
Offers the facility to send

personalized confirmation emails

to attendees.

Mobile check-in facility

through ticket scanning.

Allows access to all the contacts that have registered for your event.

From

registration form submission to ticket sales

, it takes care of everything.

Offers

multiple ticket support.
Allows users to build their own registration forms

based on their preferences.
6. Ticket Tailor
Ticket Tailor is an advanced WordPress Event Registration Plugin that is specially designed to tackle your ticket sales. Users can easily embed event registration within their events page.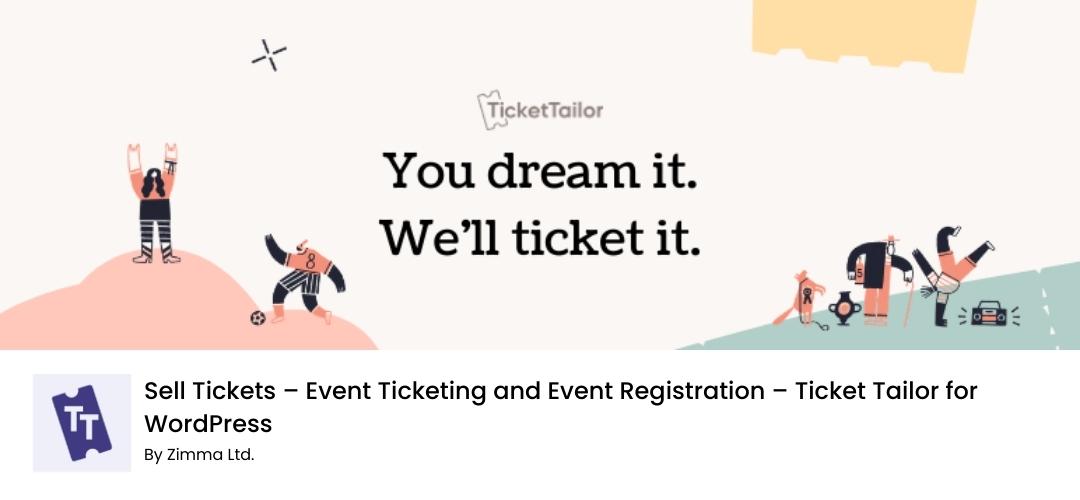 Powerful features of Ticket Tailor includes,
It is a plugin that works for event registration and collecting payment for ticket sales through

Stripe, PayPal or direct payment.

It allows users to

edit and customize

the event registration forms to let them build

different types of tickets

for their events.

The plugin is suitable for those who are searching for an

e-ticket management plugin.

It helps users add

barcodes and QR codes

to e-tickets.

Allows attendees to

check-in

through barcode scanning.

Users can also

add discount codes

to their registration form.

It lets users find

backlinks t

hat help people to discover your WordPress event registration page.

Helps keep a track of sales and promotion.
7. EventPrime
With more than 500 active installations, the EventPrime plugin has successfully impressed its users due to its intuitiveness. Users can create events easily by clicking on their desired date on the calendar and filling up some details.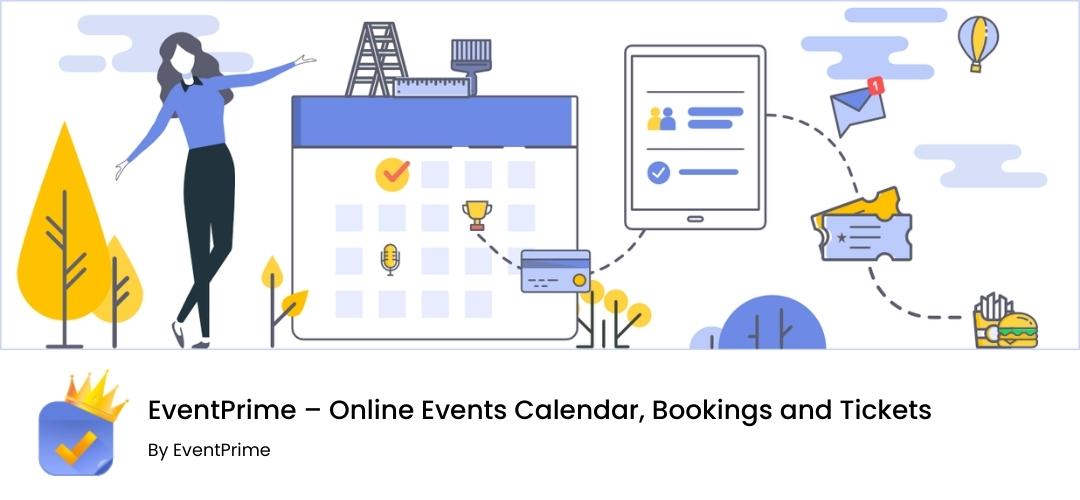 Powerful features of Event Prime includes,
Allows users to

customize email

notification messages for their registrants.

Google Maps

support.

Lets users share events on

social media platforms.

Enables users to

submit their events from the front-end interface.

Users can easily access the

details of their registered users.
Gives users the scope to receive payments through PayPal

once the event is created.
8. Registrationmagic
Registrationmagic is the name of another popular WordPress event registration plugin that creates registration forms. It mainly focuses on the login setup to help users keep an eye on the form submissions, track payments and other activities through their dashboard.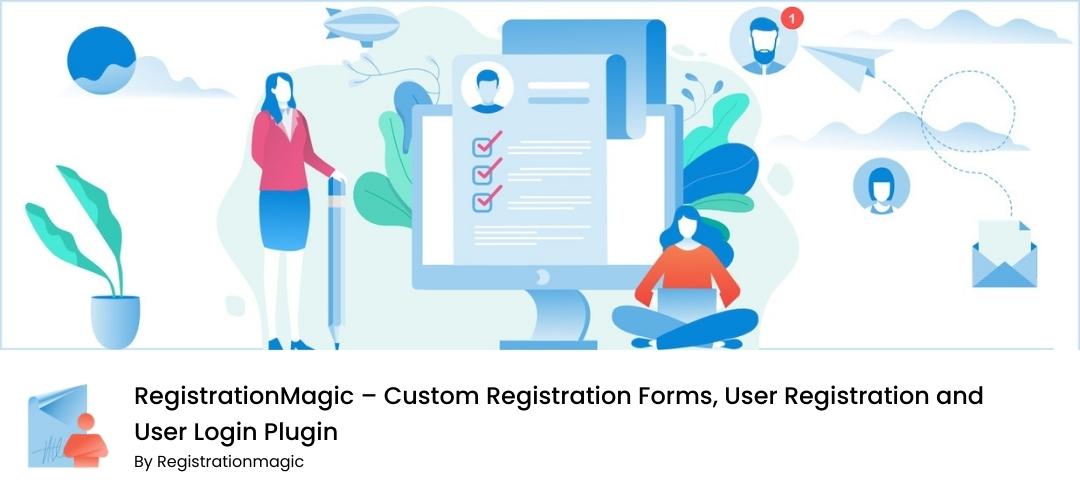 Powerful features of RegistrationMagic includes,
It helps users control and maintain registrations on your website with a useful building, configuring, publishing, analyzing and automation toolkit.

Quality customer support.

Allows users to build simple or complex registration approval methods.

In case there is a limited number of seats in an event, this plugin lets hosts set a particular time period for booking to limit bookings per person.
9. Registration for The Events Calendar
This Registration for The Events Calendar plugin comes with a customizable registration form and email template. It is a superior registration tool that is used for various events, workshops and meetings. Before installing this plugin, you need to install The Events Calendar to fully utilize its functionalities. After installation, you can start accepting registration for your event.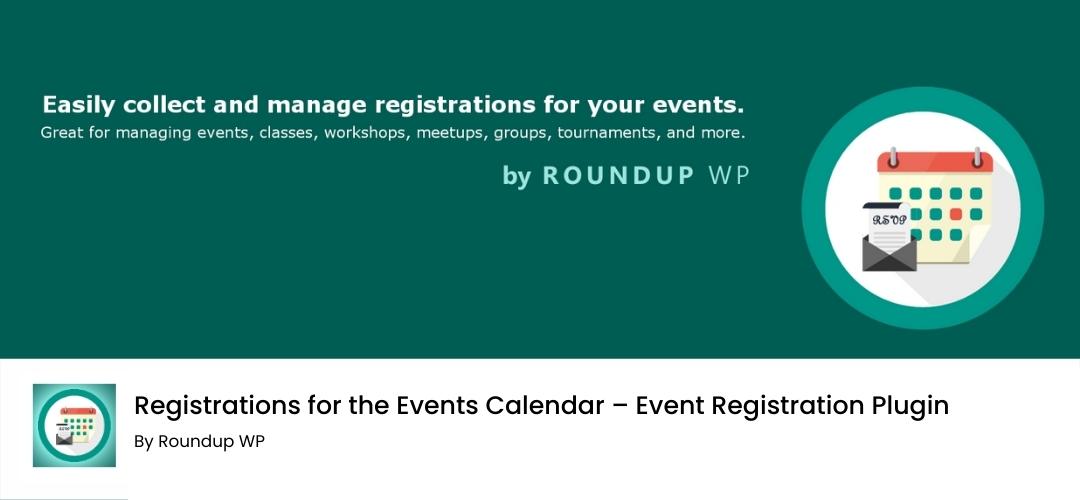 Powerful features of Registration for The Events Calendar include,
It is easil

y customizable

to suit every business needs.

You can add as many

fields

as you want in the registration form.

You can set a

limit

for the total number of registrations you want to accept.

The premium plugin offers a plethora of

advanced features

that include payment management, customizable event reports and guest registration.

Attendees can cancel

their registration if they want.
10. The Events Calendar
The Events Calendar is one of the most powerful event registration plugins that helps users create events based on their choice. It makes it easy for you to show the list of your upcoming events through a calendar to your visitors and let them filter search results depending on the date or keyword.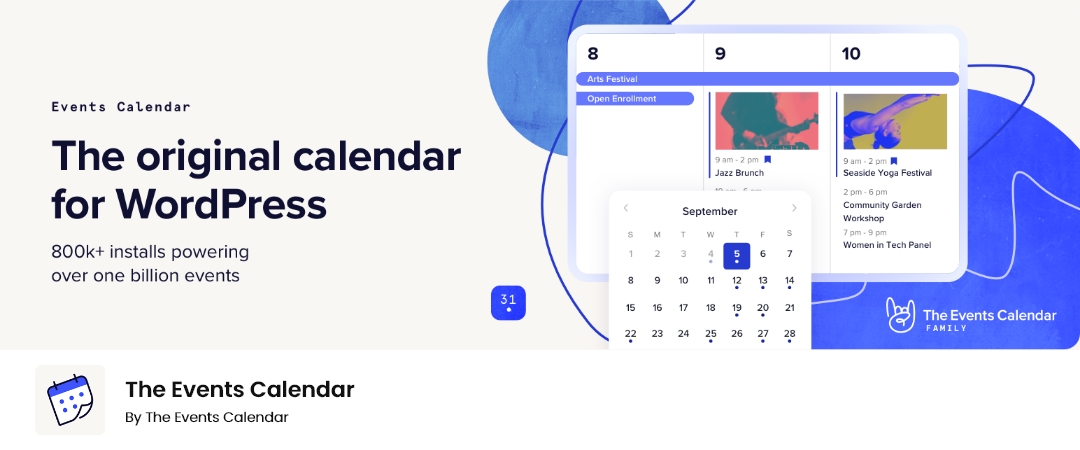 Powerful features of The Event Calendar includes,
Fast and easy

event building process.

Allows you to add

event details

along with the

details of the organizer.

Lets you show your event venue through

Google Maps.

Offers amazing

designs with attractive forms.

Suitable for a

busy-organization

that needs to add events rapidly.

Collecting RSVPs

is easy with this plugin.

Users can start working with it immediately after installation.

Customizable

and easy to use.
With this plugin, users can utilize powerful features like Google Calendar exporting, event taxonomies and more.
Final Words
An event registration plugin is essential for your events business, especially if you want to give your attendees a trouble-free way of booking tickets for your events. That is why choosing the right event-registration plugin can help you achieve your business goals efficiently.
I hope the above mentioned list will help you in your search for a useful WordPress Event Registration Plugin.
Here's a reminder of the most important features an Event Registration Plugin should include while you conclude your search for the right one for you:
Customizable forms.

Facility to transfer registration data.

Customer support.

Simple and complex registration forms to fulfill different business requirements.

Admins to have the right to accept and reject registration forms.
WP Event Manager's Registration plugin is in our opinion the most robust way of fulfilling all the above-mentioned criteria. Discover the plugin today!