WordPress is a Content Management System that offers multiple event management plugins. These event management plugins can efficiently help you manage your events online through your WordPress site. From adding an events calendar, handling the registration process to ticket selling,  Zoom meetings, mobile application and marketing everything can be done with these plugins.
When it comes to event management plugins, WP Event Manager tops the list. It is one of the leading WordPress events plugins that offers a huge array of addons to enhance the functionality of your events site. One of these addons is the Event Calendar and in this article we have shared 5 new features of the WordPress Calendar plugin.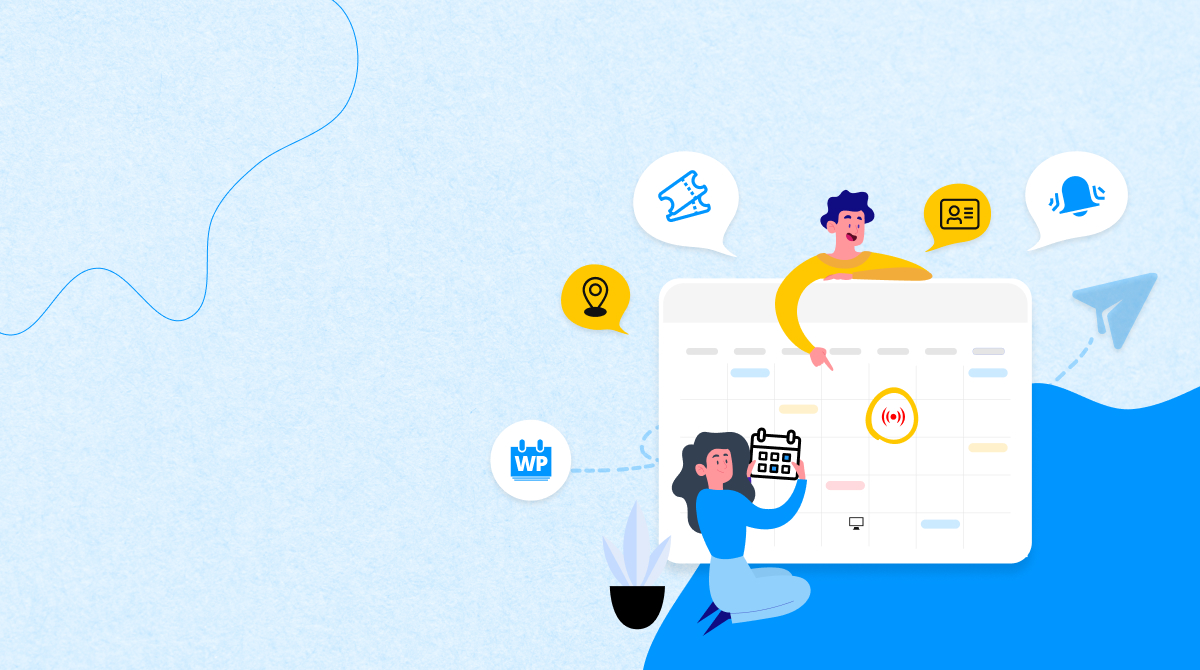 What is the use of an event calendar?
An event calendar lets users display their event dates in a systematic way so that the website visitors can find events and event details with ease. It also helps them find past events that were listed on that WordPress site.
Why WP Event Manager?
There are lots of choices when it comes to adding an events calendar to your WordPress website. We recommend you to opt for WP Event Manager's Calendar plugin. It allows you to display the past and upcoming events on your website. Having an events calendar lends credibility to you as an event planner. The Event Calendar plugin demonstrates that you have a past history of successful events, so chances of new opportunities will be open for you. In this article, you will be introduced to WP Event Manager's event calendar plugin features focusing on displaying dates and details of events on your WordPress website.
The Events Calendar addon is one of the most popular premium extensions of WP Event Manager that is enriched with a plethora of amazing features.
Here are the things that make the Calendar plugin from WP Event Manager one of the finest WordPress event plugins that is available in the market.
Easy to use. 

Affordable and flexible pricing structure. 

Developer-friendly coding structure. 

SEO friendly.

Lightweight. 

Offers quality support.
Introduction to the Event Calendar plugin
The Event Calendar plugin is known for its unique features that takes your events business to another level. It offers a neat and clean calendar to display your event from where your website visitors can easily access the details of your past, present and upcoming events. In addition to that it comes with multiple layouts to help you get the one that perfectly suits your WordPress events website.
It is one of the best selling premium plugins of WP Event Manager that has received several positive reviews from its users from all over the world.
Top 5 New Features of Events Calendar Plugin
Find out 5 new and exclusive features of the calendar plugin that includes the following website visitors.
1. Calendar with Event Listings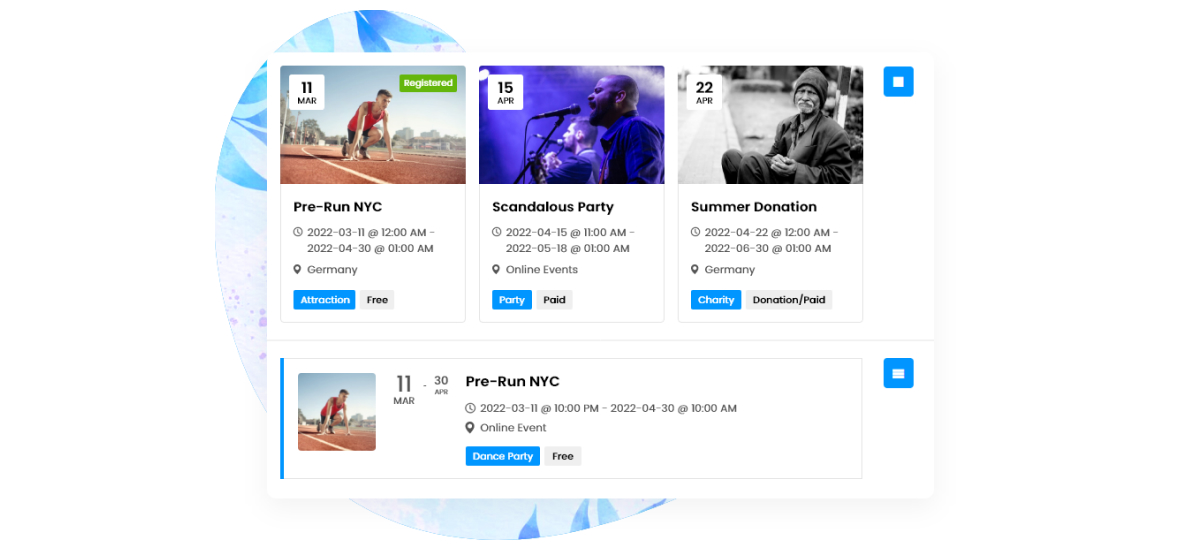 As mentioned above through the calendar plugin website visitors can easily find out the events that they are searching for. The calendar covers all types of events including past, present and upcoming events. For instance if a website visitor searches for events on a specific date, he or she could easily find them out through the calendar without any hassle.
Here are the advantages of the feature:
Improves user experience on your events website. 

Increases exposure to your events. 

Makes it easy for event organizers to manage event schedules systematically. 

Simplifies the process of finding events for the website visitors. 

Adds visibility to your events. 

Through the calendar your target audiences can find events on a weekly, monthly and yearly basis.
2. Quick Event Access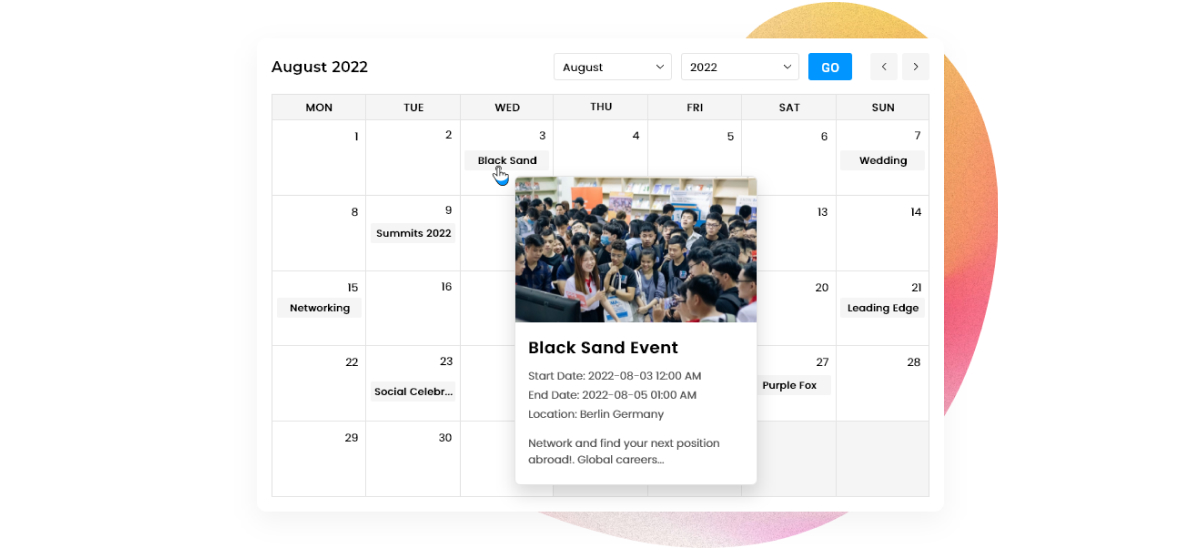 This is another feature of the Calendar plugin that simply makes it extraordinary. With this feature anyone can easily access an event details by placing the cursor on that specific event. A mini pop-up-like box appears that reveals all the necessary details of an event. Such details include the event name, date, time and a high quality event image.
Here are the advantages of the feature:
Saves time and effort in accessing the event details. 

Offers a pleasing appearance to your website. 

Better user experience. 

No need for changing web pages to get event details. 

Easy event access.
3. Calendar Widget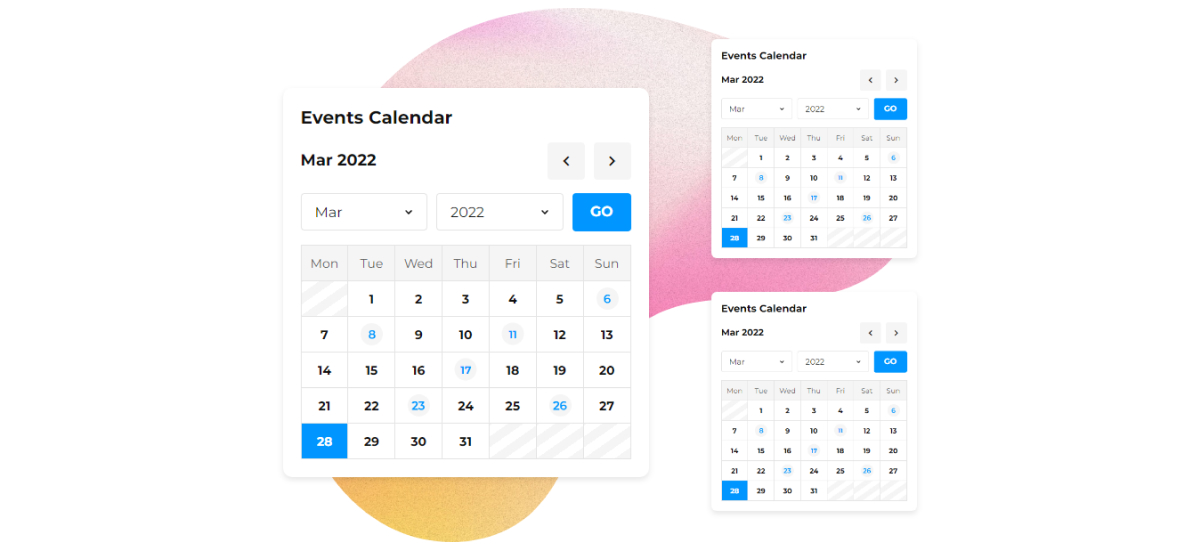 The calendar can also be displayed in a widget form on your website at your preferred place. You can simply place it at the sidebar of your page or into the footer. In simple words, you can place the widget in an area on your website that you think will get the best exposure.
Calendar widgets are the modern way of displaying your calendar to your target audiences.
Here are the benefits it offers:
Widgets enhance the appearance of your website. 

Attracts audiences towards your events. 

Lets website visitors access the calendar from any page on the website without changing it. 

Convenient for website visitors.
4. Shortcode Calendar View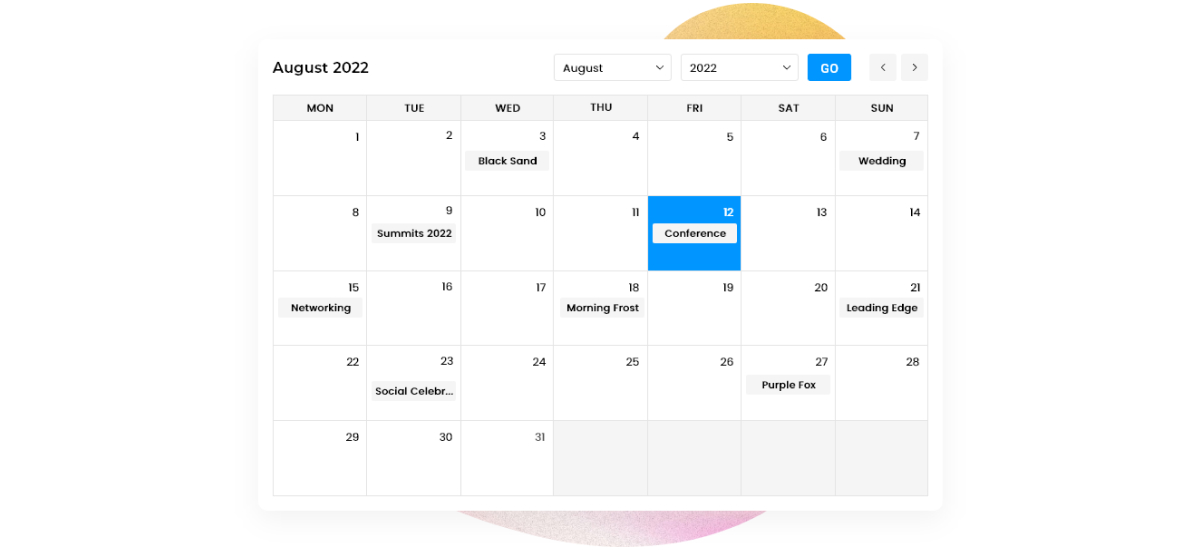 Shortcodes magically simplify the usage of the plugin for its users especially for those who do not have much technical knowledge.
When it comes to the calendar plugin, shortcodes make it easy for the users to display the past and upcoming events in a single event page and that too without any coding skills.
It usually showcases event details in a chronological order.
Advantages of the feature:
Past and upcoming events can be shown easily with shortcodes. 

User friendly as no technical knowledge is needed. 

Convenient.
5. Advanced Search Filter
Advanced Search filters add more convenience to the website visitors or any other user who is searching for a specific event on the calendar. This particular feature of the WordPress event calendar allows your audiences to search for events based on various filters including event venue, tags, category, organizers and more. The feature is extremely useful especially if you are having multiple events listed on your website.
Advantages of the feature:
Makes it easy for the audiences to search for events. 

Saves time in searching events especially when a website has a huge number of events listed on it. 

Improves user experience.
The above mentioned features were some of the top features of the calendar plugin for WordPress  but it has more in its store for you. To get the details of its other features, discover the plugin now!
How to create an event calendar?
To create an event calendar on your WordPress website with the Event Calendar plugin, you need to follow the below mentioned steps:
To know all the details about how you can create an event calendar, please go through our previous blog named "How to create an event calendar for your website."
Conclusion
The Event Calendar plugin offers everything that you need to manage your event schedule seamlessly. Besides this, it has so many features that definitely makes it much more than an ordinary event calendar for WordPress. If you are also in need of a reliable event calendar to increase your event exposure and manage them in a systematic manner then you can surely go for this one.