The Ultimate Event Management Checklist You'll Ever Need in 2023
"Someone's sitting in the shade today because someone planted a tree a long time ago."
The inspiration quote from Warren Buffet teaches us the importance of planning. Every project needs proper and timely planning to be successful. The project of event management is also not an exception to this. Starting from fixing dates, choosing venues and others to selling tickets and promoting it, everything needs to be planned ahead of time.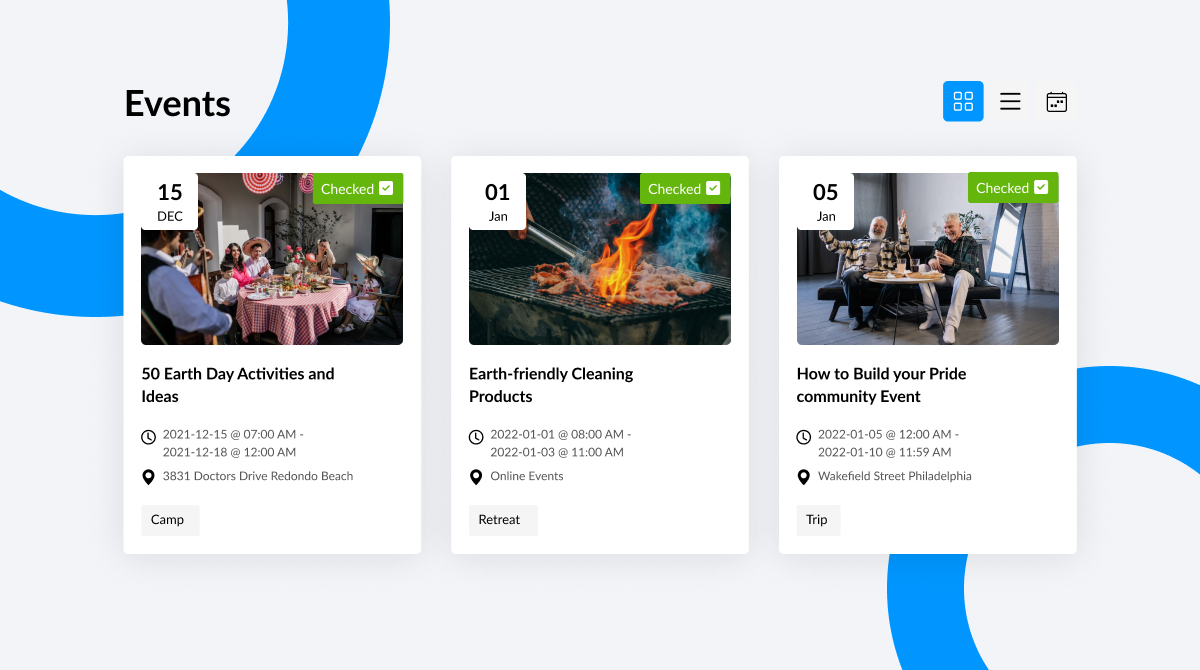 Event Management is undoubtedly a challenging task but you can certainly make it easy by creating a roadmap before taking the first step in this journey.
If you want to host an event in the near future and don't know where to start or if you frequently host events and are looking for ways to improve it, this article on event management checklist can help you a lot in following the right track.
In this article, you will learn about:
1. Building an event strategy
Building a strategy for an event is the step that you take towards the success of it.
Consider the following things before making your event strategy:
What is the main purpose of your event? What target do you want to achieve through that?
Every event comes with the purpose and you need to have a clear idea about what is yours. Most events are organized to build connections but there might be other reasons as well.
Some of the common purposes include the following:
Spreading brand awareness.

To fulfill a specific agenda.

Boost ticket sales and revenue.

To create a community etc.
Identifying your target and goals behind your event makes it easy to plan for it accordingly.
Who are your target audiences?
One of the crucial parts of event planning is knowing your target audiences. This is because the success of your events depends on how well they have responded to your initiative.
Find out about their:
Interests, likes and dislikes.

Which platform do they prefer for social networking?

Professional background.

Educational qualification.

Where do they prefer to hang out and other related information?
Understanding your audiences will help you serve them better.
What are your event activities?
Event activities are nothing but the main content of your event. In simple words, you need to decide what will be there in your event for your event attendees.
Consider the following examples:
You are introducing something new to your attendees through the event.

There will be academic classes or workshops.

Networking sessions, interactive games etc.

Entertaining performances or speech.
Besides this, you also need to think about the fooding or lodging and other things related to it. Make sure you keep these things in mind while building a strategy to offer satisfactory attendee experience.
Why is your event worth attending?
This is a very important question that you must prepare yourself to answer. There must be something unique about your event for which people should choose you over others.
Here, we would like to mention that the event representation plays a pivotal role.
Consider the following things to stand out in the crowd:
Display your events on an interactive

calendar

that is not only attractive to your WordPress site visitors but also makes it easy for them to access your event details.

Focus on the venue if you are organizing an in-person or hybrid event.

When it comes to a virtual or hybrid event, make sure you add all the facilities to it that an in-person event usually carries. You can use virtual addons from WP Event Manager to conduct exceptional virtual or hybrid events.
2. Planning about event promotion
Event promotion plays a major part in making your event successful. Reaching out to your target audience is an art that requires solid planning and effective strategies.
There are several ways to promote your events that mainly depend on your budget and your target audiences.
Considering the above mentioned things you can choose between paid or non-paid promotional methods or both for your events.
Paid promotion:
If you have no budget constraints, then you can certainly go for paid promotions to expand your audience reach. Such methods include paid social media advertisements, ads on popular websites and more.
Non-paid promotion:
You can utilize social media platforms and spread the event amongst your followers or friends. Similarly, you can create an events page on popular social networking sites to gain attention from your target audiences. Email marketing is another good option to promote your event.
Consider the following ways of non paid promotion:
Add an interactive event

calendar

to your site.

Get in touch with your past attendees.

Try to improve your site's Google ranking with SEO and more.
Use an efficient WordPress plugin to automate the process:
WP Event Manager is a leading WordPress plugin that offers various addons to fulfill event management requirements. Such addons include Emails, Hubspot CRM, Mailchimp and more. You can purchase them individually or in a bundle.
3. Focus on sales and ticketing
Selling event ticketing is another challenging part of event planning. A major part of your event revenue comes from your event tickets. Starting from managing bulk attendee registrations to handling payments in a secure way, doing everything manually increases the risk of errors. However, you can avoid these things by using an efficient event ticketing system.
Try WP Event Manager's Registration and Sell Tickets addons that streamlines the entire system with.
Customizable registration form.

Multiple ticket types. (paid, donation and free)

Secured payment process.

Tickets are sent to attendees in PDF forms through emails.

Multiple payment gateways with WooCommerce integration and more.
4. Manage logistics
Managing logistics is also important to ensure that everything goes according to plan and smoothly on the day of the event.
Decide how you will manage the check-ins, check-outs and registration.
Ensure that you have a smooth check-in process for attendees to avoid long queues or a messy situation. Check if you need volunteers to manage the process of registration. No matter how efficient your volunteers' team is, when it comes to handling a big event with a huge number of attendees, errors are common.
Use a mobile application to handle check-ins and registrations easily without any errors. Here, we recommend the Mobile app addon that brings the entire check-in, check-out process on your mobile devices.
Managing your team
If you are going to host an event, you need to make sure that you handle the team well.
Consider the following things:
Allocate tasks to each of your team members clearly.

Create a solid plan on which team member will be performing which task at which time.

Always have a plan B. unexpected things may happen anytime and you need to be well prepared for that. For example you may run out of snacks or face shortage of any particular food item. To handle such a situation with ease you need to know where to go at that time for arrangements. Keep spare speakers or microphones with you for emergencies.
5. Plan your post event activities
Having a successful event with a huge number of attendees does not put an end to your responsibilities. Post-event activities are also very important to gain feedback and keep them engaged for the next events.
Initiate a post event survey
It is a good idea to initiate a post event survey to get honest opinions about your event. Make sure you send that to your attendees immediately after the event so that the memories of your event remain fresh. Based on their feedback you will be able to improve your event quality and attendee experience.
Send a thank you message
Send a gratitude mail to all the people who graced the event to make them feel important and desired.
Send emails to those who could not join it
Don't forget about those who somehow were unable to join your event. Share your event highlights with them to grow their interest for the next event.
Wrapping up
Every event brings an opportunity to learn and gain experience. When you are an expert in this field or a first timer, we hope the above-mentioned checklist will help you plan for your events more efficiently. Put your first step by building a strategy, proceed with planning for your event promotion, sales and tickets and finally focus on arranging for post event acitivities.