It is an undeniable fact that every internet user prefers to use fast websites. This is crucial for your website to offer good user experience. If you have a WordPress website then we have some amazing tips for you to speed up your WordPress site.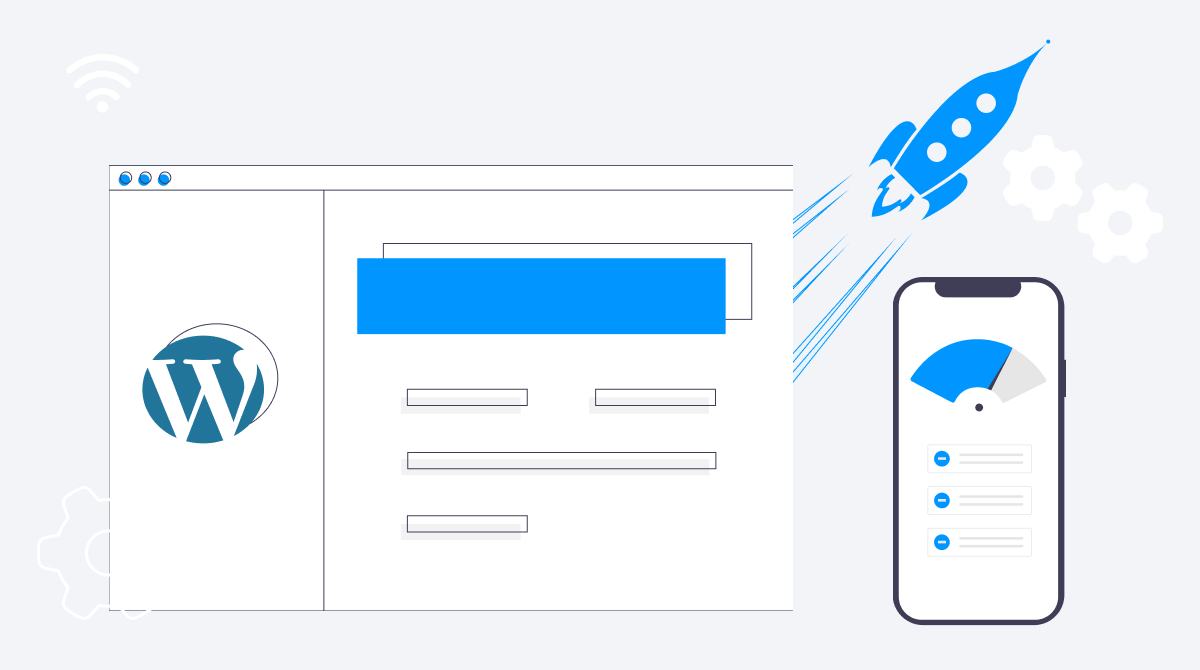 More than 43% of all websites are based on WordPress which signifies the coexistence of multiple plugins, themes and other technologies. It is no less than a nightmare for a WordPress user to have a WordPress site that is slowing down.
Speeding up your WordPress site has several advantages. Besides your website users, it also keeps search engines happy. In this article, we have covered almost all steps that you need to take to charge up your WordPress site.
Why is it important for you to have a high speed WordPress site?
Internet users are impatient. They won't take a moment to press the back button if your site takes longer to load. While checking a new site, we all look for speed. Your website performance does put an impact on your user experience and it determines how your website visitors are going to judge you or the quality of your business.
Google says a website must not take more than 2 seconds to get loaded. Users easily lose interest on your website if it takes longer than that.
Here, we would like to mention that WordPress does not have a specific feature to speed up your site and it entirely depends on the way it works. WordPress creates a page by assembling data from different resources including themes and databases each time a page is visited.
In addition to that, the themes and plugins used on your website occupy a significant space on your server even if you do not use them. Using such plugins and themes unnecessarily can ultimately slow down your pages and threaten conversion rate.
Whether you have expertise in the web developing field or not, these tips will be helpful for you.
Here are some easy ways to speed up your WordPress site
1. Find a reliable hosting provider
The overall speed of your website highly depends on the web hosting service provider you choose for it.
You must select the one that has the capacity to fulfill your performance and bandwidth requirements.
When it comes to WordPress hosts, you have plenty of options that include:
Shared hosting.

Virtual private server hosting.

Dedicated hosting and.

Managed WordPress hostings.
The service charges are different for each plan. Shared hosting service generally costs less than private hosting plans. However, your website performance may suffer with shared hosting service due to the presence of other websites. That is why we recommend VPS, dedicated and managed hosting service plans for websites that deal with heavy traffic on a regular basis.
2. Check your website performance
It is essential for you as a website owner to know your website well and also how it performs before making improvements.
Consider the following things to determine your site performance:
The strength of a visitors' internet connection.

The location from where your site is being used.

If your site is there in the visitor's cache list.

The type and amount of content used on your website.

The amount of traffic that your site handles.
Your site's loading speed may vary from page to page based on the amount of content they each carry.
You can use reliable WordPress tools to measure the performance of your site.
3. Remove unnecessary plugins
WordPress plugins enhance your website features to a great extent but using too many of them can adversely affect your WordPress site. In simple words, running multiple plugins at the same time may slow down your site. The plugins that you do not use also consume resources. So it is almost good to remove such unnecessary plugins that are putting pressure on your site.
Consider the following points:
Delete the plugins that you no longer or you are sure that you will not use anymore.

Initiate a website test after deactivating each plugin to make sure that everything is working properly.

It is good to delete these plugins one after another to find out which one was actually slowing your site down.

Once you filter out these unused plugins, you can search for their lightweight alternatives that won't affect your website performance.
4. Use good quality plugin
Using good quality plugins is one of the smartest ways to keep your website healthy. So what does the word good signify here?
Consider the following things to understand the qualities that a good plugin carries.
A good quality WordPress plugin is always coded with best coding practices and consumes less server resources.

Light-weighted.

Occupies less server space.

Well-maintained and updated based on WordPress updates on a regular basis.
The quality of a plugin highly depends on the way it is created. So you must make sure you go through the online reviews of plugins and feedback or complaints related to it before installing them on your website.
The plugins offered by WP Event Manager for feature enhancement of your WordPress events websites carry all qualities of a good WordPress event management plugin. They are light-weighted, user-friendly and easily customizable.
5. Stick to the latest version of PHP
Just like the WordPress plugins and themes, PHP also goes through updates regularly. WordPress websites are empowered by PHP which is an open source scripting language. These scripts are stored on your web hosts server. PHP updates help your website run smoothly.
PHP 7 is the current PHP version that was launched in 2015. Needless to say, this version is way better than its previous one and using it on your website will definitely improve its performance.
Go through your hosting provider's site documentation to understand which version you are currently using. If it is the older one then you can ask the host to update the version on your site.
6. Use quality plugins and light-weight themes
You might be surprised to know that WordPress themes can also put pressure on your hosting server.
This is because themes consist of powerful and high-quality images that amp up the appearance of your website. There is a huge load of coding behind these images and eye-catchy effects. Moreover, many of these themes are inappropriately programmed and for these reasons the file size gets increased. As a result, that ultimately slows down your page.
That is why you need to select a theme that is simple and hold all the features that you need for your website.
If you prefer to add more effects, you can do it with the help of a plugin or custom CSS.
7. Use simple page designs and content
Using less fancy designs and content always helps speed up your site. The reason behind this is that pages with simple designs and content consume less resources. As a result the website will take less time to load.
Simple designs also create superior user experience as they do not overwhelm visitors.
In addition to that, such designs can easily be made responsive which means that such web pages can be viewed on any device without affecting the quality.
Consider the following points while building your website home page:
Think twice before adding contents to your website.

Cut down any content that you think is not important or necessary.
This can be challenging if you have already chosen or invested in a fancy design for your website but your design and content do play a role in increasing the speed of your website.
8. Clean up your WordPress database
Having a WordPress site for a long period of time means you have gathered a lot of unnecessary and old files in your database.
Such files may include the following:
Comment spams.

Excess data from the plugins and themes that are not in use.

Unused content.

Old users and more.
They take up a huge amount of space in your server and pressurize your website. So it is essential for you to remove them. You can use additional plugins to track, scrutinize and remove these data from your server. You also have the option to do that manually.
9. Split long posts in multiple parts
Adding too much content on your website can also pose a threat to your website speed.
Sometimes long posts with multiple high–definition images take up a long time to process. So it is better to divide them in multiple posts instead of putting all the information in a single post.
10. Compress files with GzIP
All of us are familiar with zipping files up to compress them using WinRAR or other such software. It helps reduce the file size. We want to tell you that the same is possible with your website as well.
Since code is also text and text can be stored in files, you can compress the files and use them wherever they are required. This saves a significant amount of time, space, and overall cost. Modern-day browsers are equipped with the functionality to interpret compressed files, which can speed up your WordPress websites significantly.
The GZip compression is a plugin that is easy to implement and use. You can use a basic guide to apply it, and it'll make your life easier. It will allow your WordPress Website to handle zip files. Feed the zip files to the database and leave the rest to the browser.
Wrapping up
If you are dealing with your website speed issues, you can utilize these above mentioned tips to overcome the problem. Remember, your website speed puts a huge impact on your user experience, so make sure your website has the appropriate loading speed.