Having a good attendance rate in events is one of the top priorities of event planners and organizers as it shows the result of all the efforts they have put into their events. Seeing empty seats on the event day is no less than a nightmare for them.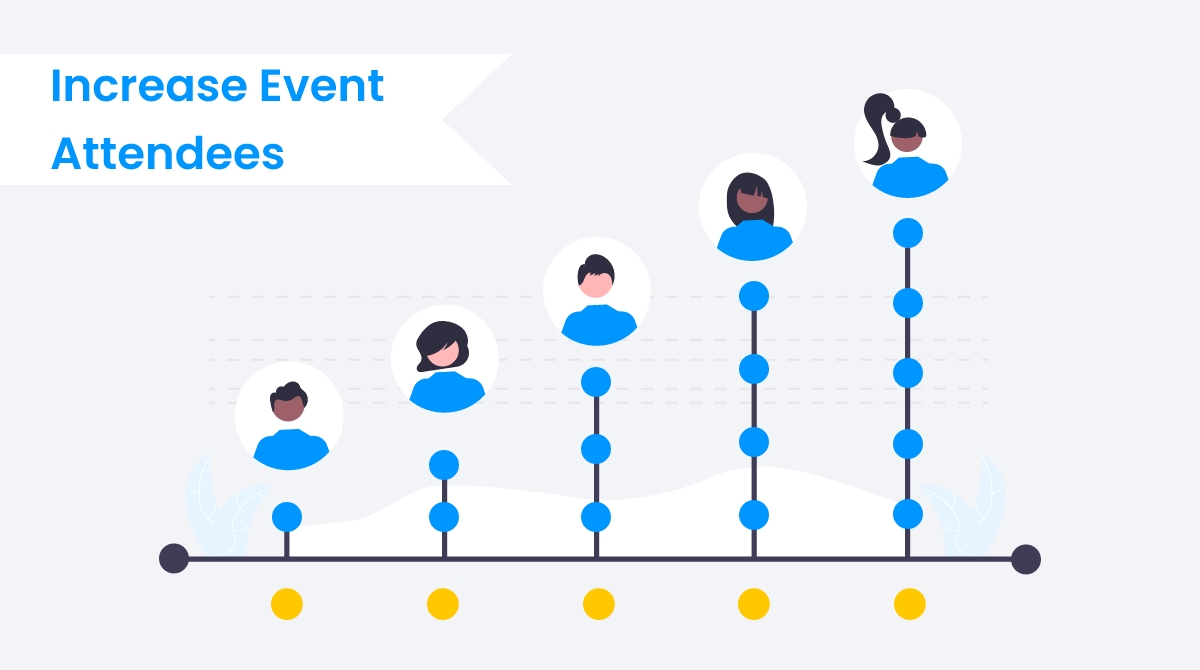 Behind every event, there is a lot of planning, hours of hard work and many sleepless nights. No matter how much effort you have given to your event at the end of the day, if the seats are not filled your event is not successful. It may sound harsh but it is true.
So why does this happen? How to improve the number of attendees in an event? All these queries will be answered in this article.
Convincing people to be present in your events is an art and it needs proper planning strategies. That is why we have covered some of the essential steps that you must take to boost attendance in your upcoming events.
What causes low event attendance?
It is quite disheartening to witness lower attendance in your event than what you expected. You might be asking yourself,
Where have you made the mistake?

What might be the real reason behind this?

How to improve this? Or

How to ensure it never happens again ?
To improve the situation, you need to identify the reason behind it so that you can work on the areas.
Here is a list of things that could be the reasons behind poor attendance in your event.
1. Poor marketing
One of the biggest reasons behind having a low attendance rate in your event is poor marketing skills. Using proper marketing strategies to reach out to your target audience is essential to boost event attendance.
You might not have utilized all marketing channels both online and offline to promote your event or you were not consistent in sending reminder emails to your attendees.
Such small mistakes can cause big issues in your events. That is why it is always better to rely on the right tools to handle things in a systematic way.
2. Lack of networking
Networking or building connections with your target audience plays a pivotal role in this case. Sometimes you fail to connect with people in the right way and in such a situation sending your event invitation to them seems to be of no use especially if they can not recognize you.
3. Technical issues
Technical issues can also create an obstacle between your event and attendees. Whether you are hosting an online, hybrid or in-person event, technical issues may occur anytime with any of your instruments including your internet connection, speakers, microphone or big screen.
4. Lack of convenience
Complicated and time-consuming registration process, less payment options, long and tiring check-process and boring alert messages often turn off people. Even if people are interested in the subject of your event they would not proceed further if they face anything like that. As a result, your event will get less attendance.
5. Problems faced by attendees
Your attendees might also face problems due to which they fail to show up in your event. This could be a health issue, traveling related issue or any other problems they face during the time of your event.
Solution to all these above mentioned problems is using the right WordPress event management plugin like WP Event Manager that streamlines the entire process. We will be explaining how the wordpress plugin can solve all of these problems in our next segment along with other useful ways to improve attendees in your event.
10 effective ways to improve event attendance
1. Make your events interesting for your attendees
In order to make your events interesting to your audience, you need to first understand why your audience wants to attend any event.
Usually three things attract attendees towards an event,
Subject of the event.

Location.

Networking opportunity.
So you need to utilize these areas to convince them to attend your event.
Keeping your target audience in mind, you need to pick up a subject that is related to the products or services you sell and also something that is interesting to them or they can learn from.

Secondly, if you are holding an in-person or hybrid event choose a location which is appealing to your target audience. You can also take their votes before finalizing the event location through social media platforms to engage them in the process. In addition to that you can use the Google Maps addon offered by WP Event Manager to highlight the event location on the map to add more convenience to your audience.
Attendees always look for the scope to connect with people through your events and it is your responsibility to create the scope for them. You can add interactive sessions to your event to help them interact. If you are into virtual events or hybrid events, using the Expo Networking plugin can help you a lot in this process. It lets you create breakout sessions, interactive booths, and create many more opportunities for your attendees to connect.
2. Offer a smooth registration process
When you are hosting an event you must ensure that you offer a smooth registration process to your attendees. This is because if the registration process is too complicated then interested attendees might lose their interest in registering for your event. For example if they are not sure about how to register, or there is no proper link for registration etc they would simply leave your page.
When it comes to managing your event registration, you can rely on the Registration addon designed by WP Event Manager to simplify the registration process for you and your attendees.
3. Promote your event with useful strategies
Event promotion is an art that is driven by strategic planning. You must utilize both online and offline platforms to promote your events. To get some amazing ideas on ways to promote your events, you can read our article on how to promote your events. WP Event Manager offers a great solution for this as well. They provide a set of marketing addons in a bundle which is available on their website that you can easily purchase.
4. Offer different types of tickets
Offering different types of tickets increases affordability and accessibility for interested people. Besides this, you must also pay attention to your ticket pricing that should not be too high or low for your attendees. Offering a secured and multiple payment option is also crucial for you to make sure that your ticket purchasing process is convenient for your attendees. We recommend the Sell Tickets addon for this purpose that efficiently takes care of your ticket selling requirements.
5. Utilize Email Marketing
Email marketing is essential to keep in touch with your existing customers and to encourage them to attend your next event as well. You need to be consistent in sending emails to your customers but at the same time you must ensure that your email messages do not irritate them. Send emails related to your upcoming events in an interesting way and keep reminding them about it when the event date comes closer.
Consider the following things,
Make your email content interactive to encourage them to share it with their friends.

Add the details of your event speakers and sessions.

Inform them about new and exciting offers, contests and more.

Do not forget to analyze your marketing campaigns to understand what your attendees prefer to engage with and in which areas you need to work.
Reminder messages often become annoying to your customers especially if they do not contain much useful information. These messages only occupy spaces in their inboxes. That is why we recommend the Alerts addon from WP Event Manager that lets your customers decide if they want to receive the alert messages from you for your future events.
6. Offer rewards for early registration
The early registration trick always works in your favor and helps increase your event attendance. Most event planners have also agreed on this. You can always offer special discounts on your ticket prices for those who register with a particular time frame that is fixed by you. This also gives a push to those people who were in a dilemma about whether to attend the event or not.
Besides early registration, you can also reward people for sharing your event on their social media platforms.
Buy one, get one can also be added to your plan here.
7. Encourage attendees to bring friends
Referral programs work like magic when it comes to encouraging people to bring their friends to your events. After all, who does not love rewards? You can offer rewards to your attendees for bringing more like-minded people in your event.
8. Initiate a pre-event Q&A
Your attendees might have some queries regarding your event that they are interested to spend their time and money in. To help them get answers to all these queries you must create a space for them by letting them directly chat with you through chat bot or a Q&A session prior to the event.
You can also initiate a Q&A session for your attendees to help them interact with the speakers before the actual event.
9. Send personalized invitations
Personalization impresses everyone because we all love things that are made only for us. Besides generalized promotion campaigns or advertisements, you can also add customized invitations in your marketing check-list.
You just need to customize your email messages for your attendees while sending event invitations with a touch of professionalism.
Consider the following points
Categorize your target audience based on the demographic data.

Customize each email for each recipient.

Don't forget to add the name of the recipient in the email content.

Make an attractive and straight forward message for them.

Your message should be full of information yet short and crisp for your readers
10. Ensure smooth check-in process
No one likes to stand in long queues for the check-in procedure. It loses energy and time at the beginning of the event itself. Attendees who have been through this in any of your events would not attend the next one to avoid the same. So it is your responsibility to make the process smooth and quick for them.
Adopting a mobile check in facility through QR code scanning can be a great idea to implement here. WP Event Manager offers a fast and easy to use mobile application through which you can keep an eye on the check-in and check-outs at your events and it also lets your attendees check in through QR code scanning.
Conclusion
We hope that these ideas will help you improve your event attendance. However, you should always begin with the areas you are lacking. In a nutshell, we can say that event attendance mainly depends on three things,
Event promotion activities.

Using the right tools for event management and.

Your attendee experience and the convenience you can offer them in your event.
WP Event Manager, being one of the most useful event management plugins, solves almost all your problems related to your entire event as well as increasing the number of attendees in your event. It covers everything starting from your event promotional activities, ticket selling to mobile check-in you get everything under the same roof.