Building a website means creating an online identity for your business and we all want it to be perfect before bringing it in front of the world. It is a rewarding moment to witness your site go live which is the result of immense hard work, strategic planning and an awesome design. So, it is an obvious fact that you would want to make it flawless by the time you launch it. To help you in this part of your journey we have assembled some of the important things that you should be careful about before your business website launch.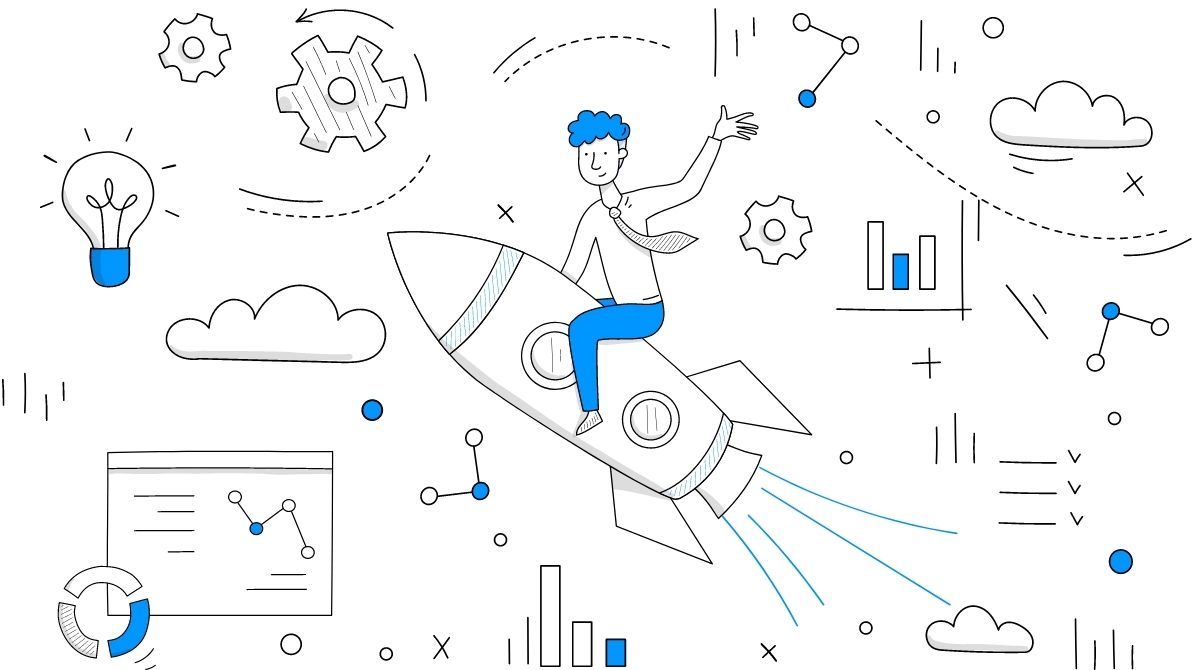 When you are gearing up to share your website with the public, you need to look after certain areas which require improvements. For instance, mistakes are often found in the design areas when checked properly or sometimes the technology we choose fails to fulfill our expectations and it is important to sort these issues before introducing your website to the world.
In simple words, starting from keeping your designs up to date to ensuring an amazing user experience everything needs to be perfect before the final website launch. That is why following a pre-launch checklist can be extremely helpful in this case.
Keep reading to explore 20+ things to do before heading towards the publish button.
1. Check your website speed
Your website speed plays a pivotal role in creating the first impression on your visitor's mind. This is because most visitors would not wait on your site if it is slow. They would not even take a second to move to the competitors' site.
That is why you must examine the speed of your website and find out the ways to optimize your website content for better and improved performance. Run a speed test and analyze your site loading time and understand what is slowing down your site and work on those areas for improvements.
Various tools are also available to help you test your site speed like Google pagespeed insights.
2. Identify your objectives
Setting your objectives and targets make the journey easier. If you are redesigning your website, you would definitely want to remove the things that did not work for your previous site. For example,
The design of your old site is out of trend now, it requires a fresh design.

It failed to offer a good experience, so this time you need to focus on the ease of use.

Your previous site was also not up to the mark in terms of performance so this time you would want to make your site SEO friendly with an improved UX.
On the other hand when you are launching a fresh new website, the key areas that you need to pay attention to are your website performance, visual language and of course user experience.
3. Research on industry trends and competitors
It is wise to keep an eye on your competitors and analyze their websites to find out about advanced features that can amp up your website functionalities. However, it is essential for you to maintain uniqueness so that your target audiences get the things that no one else offers them.
Besides this, keeping yourself updated about the new web design trends is also crucial to stay ahead of your competitors. It will help you find new ideas that you could add to your web design and make it unique and attractive.
4. Look for minor errors
Typographical errors can be a big turn off for your visitors on a key page. To avoid this, make sure you proofread all the content that you have on your website to find out such minor mistakes.
Consider the following points while you proofread,
Your website content is easy to understand with simple words and short sentences.

Images are relevant and thoroughly optimized.

The audio and video files present on your website are working properly.
Having informative and easy-to-use content on your website creates a great impression on your visitors. So while you are preparing your website to launch don't forget to check these areas.
5. Set up Google Analytics
When you are about to launch your business website it is obvious that you would want to track its traffic and overall performance for which Google Analytics is required.
Google Analytics helps you monitor,
User activities on your website.

Profile details of your visitors.

The pages, posts and products on your website that are mostly preferred.

Electronic devices that your visitors use while visiting your website.

Your website speed.

Traffic sources and more.
6. Don't forget to include your Contact page
Check and confirm whether you have added a detailed contact page for your visitors. The contact pages offer your targeted audience a smooth way to get in touch with your business. Make sure you add your business phone number, email address, postal address and social media account details.
7. Check if your navigation works
You need to ensure that your website navigation works properly which means the visitors should be confident about which button they should click on to visit your website and the pages on your website. So you also need to make sure that your on-site search is also working flawlessly.
You can move through various areas on your WordPress site as a visitor.
8. Ensure that your site is mobile-friendly
It is very important for your website to work smoothly on mobile devices and you need to check that before making it live. This is because Google's focus always remains on mobile-first indexing. So your website has to be mobile-friendly.
In simple words, your users should not have any difficulties accessing your website through their mobile devices. Starting from your website content, versions, navigation to buttons and proper spacing everything needs to be taken care of.
9. Scrutinize your browser compatibility
Having a clear view of your website only on your browser is certainly not enough. You need to take care of the way it appears on various versions of major browsers like Chrome, Firefox and Safari as well.
You can use free tools like Browsershots to check your website's browser compatibility. It tests your website on various computers at different locations to examine the compatibility.
10. Check your site usability
The overall user experience highly depends on your website's usability. It is an inseparable part of your site's conversion rate along with SEO. Make sure you test your site usability as a visitor not as a website owner.
You can consider the following areas,
Check your site image loading speed.

Scrutinize the login procedure.

Examine your contact forms and CTA forms.

Make sure your content is simple and straightforward.

If you are offering a live chat facility to your website make sure that the system works properly.

If your website is selling products or services then you need to make sure that your clients get a smooth and secure payment process.
11. Be ready for 404
404 errors are usually not seen in new websites but visitors can mistakenly reach on a Page Not Found error message by typing something wrong. You need to be prepared for such situations and build a custom 404 page to not lose that visitor and improve user experience.
In addition to that, you can also add an email addition facility to monitor 404 errors right from the time your site is launched.
12. Check your Call-to-action elements
Call to action buttons direct your visitors to the most crucial areas of your website and you can not make a mistake in it. That is why you need to ensure that your site carries prominent and error-free Call to Action elements. This also helps you build your email list.
13. Examine your social media icons
While testing the social media icons on your website look for the following things,
If they are working smoothly.

If they connect users with the targeted page.

If they have proper buttons.

If the share facility works.
14. Put a backup solution ready
Having a backup solution installed on your website is essential to protect it but you must test it thoroughly before the website launch. It also reduces your stress at the time of emergency or if something goes wrong with your website as you don't have to worry about your website data.
So make sure you install a proper backup solution for your website just before launching it.
15. Protect your website
Never ever take the security of your website lightly as hackers are always waiting for such an opportunity to misuse your business identity. When it comes to your website security, the admin area should be given much importance as hackers often target this area. Make your admin area secure as much as possible by giving it an uncommon name, using a strong password and giving access to limited people to easily identify any suspicious activity in it.
16. Confirm your SSL
Adding an SSL( Security Socket Layer) certificate to your website is crucial for you to protect online transactions on your website and customer data. This not only increases the credibility of your brand but also helps you avoid getting the tag of a Not Secure website.
17. Update the time zone
Starting from your scheduled activities to your plugins every element on your website depends on the time-zone you follow. That is why setting up the time-zone of your website must be done carefully. You can follow the below-mentioned steps to set up the time-zone on your WordPress.
Settings.

General.

Search for time-zone.
18. Remove unwanted plugins
It is always a good idea to delete plugins that are no longer in use. Keeping these plugins for long can be a security threat to your website as these plugins may develop vulnerabilities in the future making it easy for hackers to break into your site. You might have installed plugins while creating your website that you realize later is of no use to you. Don't forget to remove these plugins when you are gearing up to launch your website.
19. Keep an eye on the legal stuff
Looking after the legal areas of your website before launching it can be a tedious job but trust us it is equally important to avoid legal issues in the future.
In the services section of your website, add a separate segment explaining the Terms of Service to your visitors.

Keep your important licenses in proper places.

If you are selling products through your website, you must include a Terms and Conditions section on your website.

Increase your brand credibility by reminding your customers that their data is secured with you through your Privacy Policy. GDPR compliance is also important here.

Including a cookie warning message for your visitors should also be taken seriously.
20. Configure your permalink
Configuring your permalink is an inseparable part of your website content that needs to be looked after before launching your website. This is because the world recognizes your website content through permalinks only. WordPress allows you to configure the outline of your website permalink as per your requirements. This remarkably enhances the functionality and readability of your website's URLs.
21. Install and configure an SEO plugin
You can install a suitable plugin for the SEO of your website. It is important to improve your website rank on Google search results. You need to make sure that each web page has a unique name, a meta description and proper keyword usage.
Wrapping up
Launching a brand new website can be exciting as well as stressful. Moreover, the expectation of having a great response for your business online and the fear of not being able to stand out can create a mixed feeling among all website owners. We hope the above-mentioned pre-launch checklist will guide all business owners in this roller-coaster journey of building an online identity for their businesses.
However, launching a website successfully does not put an end to your responsibilities. In order to make sure that it remains updated, works in full swing and performs well, you need to focus on its maintenance as well. If you want to get knowledge on what WordPress website maintenance is, you can read our blog on the topic here.