Organizing events offers multiple benefits including connecting people, spreading brand awareness and more. If you conduct frequent events for your business or you are into the profession of event management, then having a dedicated events website is crucial for growth.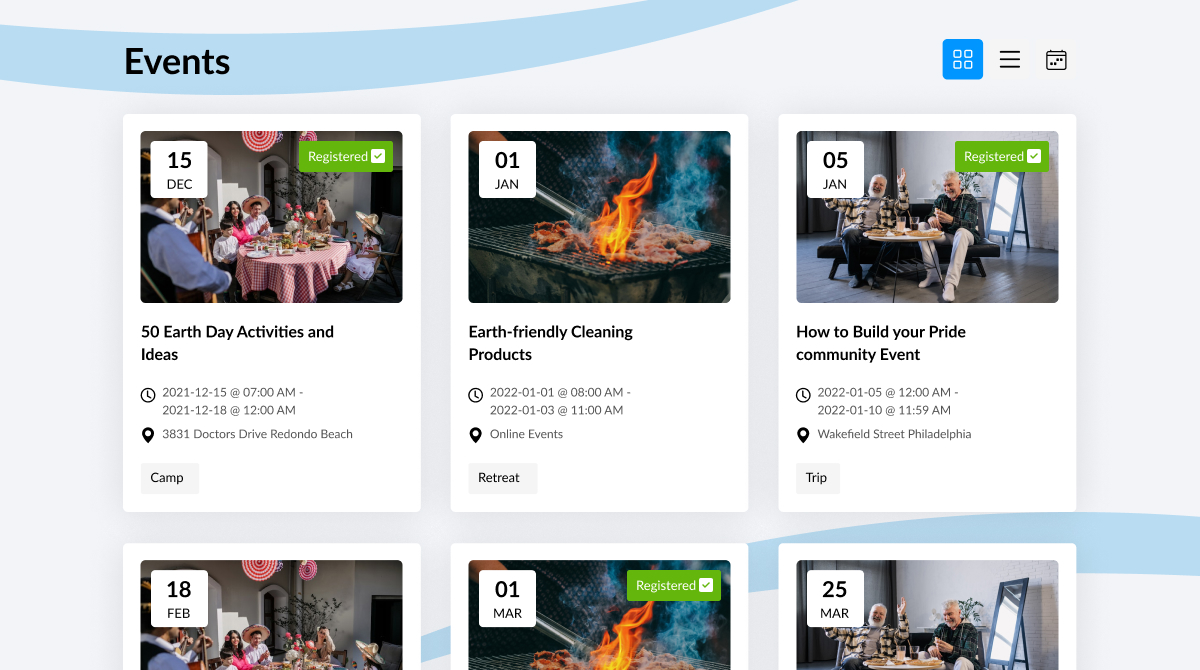 Listing events on your website is one of the best ways to reach out to your target audiences and encourage them to be a part of it.
In this article, we are going to guide you on how to create an event listing website with a leading WordPress event management plugin named WP Event Manager.
Elements of an event listing website
An event listing website requires certain crucial elements to stand out in the crowd. In this competitive industry, you need to offer your users some unique facilities to make them stay glued to it.
Elements of a good event listing website contains the following:
An event calendar.

An easy registration management system.

An efficient ticket booking system.

Attendee management.

User friend dashboard.

Mobile application.

Speaker and schedules.

Detailed contact information.
You might be wondering if it is possible to create an events website with all these above mentioned facilities with a single plugin. The answer you can but the plugin has to be WP Event Manager. It is a one stop solution for all your event management worries.
It has a huge list of extensions that fulfills almost every event management need that you can possibly think of. The best part is that it is very affordable and the pricing structure is created to make it available to everyone and businesses of all sizes.
Advantages of an event listing website
Besides offering easy access to events and their details, an event listing website comes with a lot of other benefits that are listed below.
An Event listing website is mainly created to provide website visitors with a list of upcoming websites with their links. Commonly, a lot of us have a hard time looking up events and finding their pages. Event listing websites make the search operation easy for people.

It expands your audience reach and increases the number of attendees in your event. When you have an online identity, people from all over the world can use it to get the details of your events which automatically boost audience reach.

Promoting your events also becomes easy with an event listing website. Even if you do not have money to invest on event advertising, you can do it for free with an event listing website.

It simplifies the process of event booking, registration and selling tickets for the organizer as well as the website visitors.

You can also gain valuable attendee details through your events website that your attendees fill in during registration.

Attendee management also becomes easy with an event listing website.
If you want to create an event listing website with WordPress, we recommend WP Event Manager. The core plugin is free and its premium addons are enriched with premium features with affordable pricing.
Using WP Event Manager, you get access to frontend event submission forms, easy filter and search options for entries/events, and more such crucial event management functionalities.
How to create an event listing website?
Creating a dedicated WordPress event management website is simple when you have an efficient WordPress event management plugin like WP Event Manager. It is only the matter of a few clicks.
Here, you would like to mention that you can only use WP Event Manager only if you have a WordPress events site or you are planning to build a WordPress site to add event management functionality.
As the core plugin is free, all you have to do is install the plugin and select the extensions you want to use on your website. Then purchase and install these addons to start working with them and you are done.
Before sharing the process of adding event listing functionalities to your WordPress site, let us introduce you to the exceptional features of WP Event Manager.
Exceptional features of WP Event Manager
Easy installation process that can be done even without coding skills.

Offers a visually attractive and functionally rich event listing page.

Fully responsive designs and page layouts.

Developer friendly and comes with a neat UI with simple usage.

Easily customizable.

Frontend event submission form for organizers so that they do not need to be dependent website owners or admins to submit an event listing.

Offers an event listing preview facility to let users see and modify their listings before publishing it on their website.

The entire control of the events website remains in the hands of the admin.

Provides a great user experience by allowing them to filter events based on location, keyword and more to search for them.

Users can easily add new events, edit the current ones and delete the past events on the website.

SEO friendly that boosts your site visibility and increases brand awareness.

Lastly, the add-on is fully supported by the developers, which ensures that it is regularly updated with the latest features and security updates

.
Discover the plugin now!
How to get WP the Event Manager
As mentioned above, WP Event Manager is a free plugin. So you just have to download and install it to your system.
You can install the plugin both automatically and manually.
For its premium features, you need to purchase its premium addons. It offers 37 addons that fulfill various event management requirements.
These addons can be purchased individually or in bundles. Both of them are affordable but purchasing bundles is certainly a more affordable option than purchasing them individually.
These bundles include the following:
Event Manage Plus.

Event Manager Pro.

Virtual Event Manager Pro.

All Events Manager Pro.
Based on your requirements and preferences you can select a bundle or individual addons.
Installing the premium addons:
These steps will be the same for all addons.
From your purchased email id, click the download link(s) and save the add-on zip file(s) to your computer.

Log into your site's

WordPress

admin

(e.g. www.yourdomain.com/wp-admin).

Click on the

"Plugins"

tab in the left panel, then click

"Add New".

Click on the

Upload

link near the top, then

"Choose File".

Find and select one of the add-on zip files that you downloaded.

Install it by clicking the

"Install Now

" link.

When the installation finishes, click

"Activate Plugin".

Repeat the above steps for any other premium add-ons you have purchased and downloaded.

Activate your Plugin using your License key

and registered email id.
WP Event Manager Premium Add-on License Key Activation
Follow the steps mentioned below to activate the Licence key:
Once the installation is done, the plugin gets included in the list of other plugins that are available in the plugin section of the admin panel dashboard.

After locating the plugin from the list, insert the Licence Key and Email Id in the boxes.

Do not forget to

check-mark

the box placed before the plugin name before pressing the

Enter button.

Finally, press Enter

to complete the license key activation process.
In case, the license key you have entered is invalid or expired, you will receive a pop up notification on the top of the dashboard stating the same. In this situation, you need to check the key you have entered or you need to renew the key through your account.
If you have somehow lost your license key, you can retrieve it from here.
Wrapping up
An event listing website adds endless benefits to your events business and accelerates its growth. However, you do need the support of a feature-rich WordPress plugin to gain success in this journey. We hope that the above mentioned guide will help you build an events website that is packed with event management functionalities.