WordPress Event Calendars help you share your upcoming event details with your website visitors and target audiences in a clean and organized way.
If you are planning to create a WordPress events calendar for your WordPress site, then this article is going to be very helpful for you as we have assembled six WordPress event Calendar plugins that are enriched with advanced features and added their detailed reviews to help you select the best one for your business.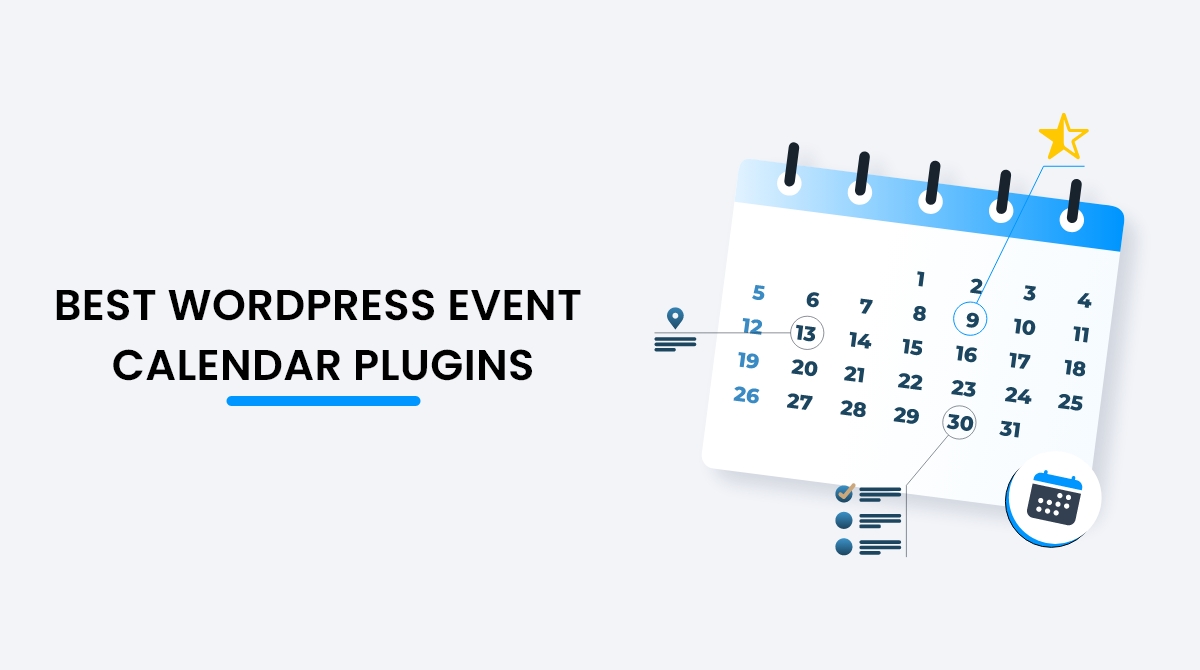 WordPress offers both free and premium Calendars that are suitable for projects of all sizes. If you just want to display the dates and other details of your events then the basic version is enough but if you want to add the registration and booking facilities to your calendar then go for the premium ones.
Before reviewing the plugins, let's take a closer look at the concept of WordPress Event Calendar plugins.
What is an event calendar plugin?
An event calendar is nothing but a straightforward way of adding a calendar to your website that keeps your visitors updated about the dates and other information of your future events. A high-quality and fully functional event calendar can even include ticketing system, attendee management and post event follow-ups.
Some of the remarkable features that an efficient WordPress Event Calendar carries cover the following,
Facility to build customized events.

WooCommerce integration.

Event filtering options to simplify the event search operation.

facility to add the desired look to the calendar.

Google Calendar integration.

Event sharing option on social media platforms.

Several payment gateways.

Must be compatible with WordPress themes and plugins.

Responsive designs.

Several view options and more.
Advantages of using a WordPress Calendar Plugin:
An event calendar makes it easy for organizers to display events in the most prominent way that is not possible with any other option.

It helps increase the exposure of your events.

An attractive events calendar drives the attention of your visitors to the events.

Most event calendars offer the facility to display additional information of events along with their dates which makes it easy for visitors to quickly get the key details of any event.

A feature rich WordPress plugin has the capacity to fulfill all your requirements irrespective of how complex or simple they are.
Top 6 WordPress Calendar plugins review:
In this blog, you will see the reviews of the following Calendar plugins
1. WP Event Manager
WP Event Manager is one of the most efficient WordPress Event calendar plugins that is known for its high-quality features and convenient usage.
It not only provides a feature-packed calendar for your events but also offers registration and ticket management facilities. In addition to that it also gives you the scope to monetize your WordPress site in many ways.
The core plugin is absolutely free and you can avail the basic features required for an event calendar with it but if you are looking for advanced features, then you must switch to its paid version.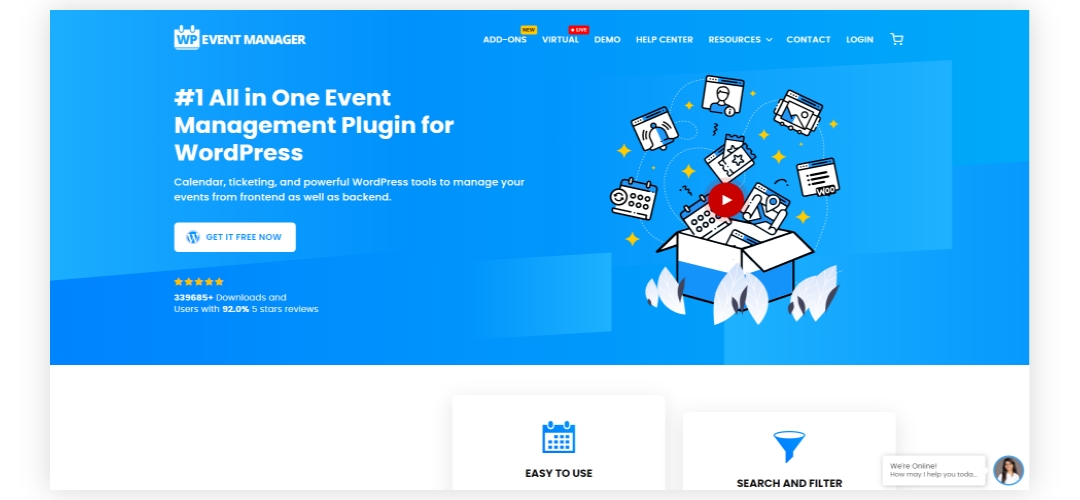 The premium version unveils facilities like ticket selling, creating alerts, advanced search filters, and more.
You can buy the paid plugins as per your requirements. The best part about their plugins is that they are offering both individual plugins as well as plugins in bundles for the convenience of the buyers. Here, it is worth mentioning that choosing a suitable bundle is a more cost-effective option than opting for the individual ones.
Besides this, WP Event Manager is highly compatible with any themes and lets you have your preferred look for your Calendar.
The main features of WP Event Manager covers,
It allows you to display your featured, recent and upcoming events in a widget.

It offers multi-language support.

You can customize your event fields as per your requirement.

Ajax based event listing.

Several shortcodes are available.

Ajax powered filtering facility for a better browsing experience.

Guests and registered users can easily submit their events from the frontend.

SEO-friendly.

Responsive design that perfectly fits into every device including mobile, tablets etc.

Event preview is also available for organizers to check their events before sharing it with the public.
List of addons
WP Event Manager offers a long list of add-ons to enhance the functionality of your event management website.
Mobile app

– offers a seamless way to manage attendee check in and check out and overall attendee management in an event.

Expo networking

– creates an amazing virtual events platform for building professional networks.

Speaker and schedule

– helps users display the details of event speakers and their session schedule in an event.

Calendar

– allows users to share the details of their events through an interactive, functional and stylish calendar.

Google maps

– helps users and organizers display event location through Google Maps.

Registrations

– lets users accept registrations easily, track the number of registrations and their status.

Sell tickets

–accelerates ticket sales and helps users monitor the number of tickets sold and left.

Zoom

–provides the ultimate comfort and security of conducting virtual events, meetings, webinars etc.

Attendee information

– helps organizers gather and manage attendee details seamlessly.

Guest-list

– lets organizers manage guests in a systematic way.

Name badges

– helps create a brand identity and allows attendees to recognize each other through name badges.

Hubspot CRM

– eases the attendee data management process by synchronizing the data automatically.

Salesforce CRM

– helps keep registration and marketing data in sync.

Sendinblue

– allows users to build a mail-list by synching registration data.

Recurring events

– simplifies the process of repeating events at regular intervals.

Zoho CRM

– helps boost visitors' engagement through chats, messages and calls.

Constant contacts

– allows users to stay in touch through personalized messages.

WooCommerce paid listing

– simplifies transactions with multiple payment gateways.

Alerts

– gives attendees the scope to receive upcoming event alerts only if they want it.

Sliders

– allows you to display events in an attractively professional way.

Colors

– lets you differentiate event type and category based on colors.

Bookmarks

– lets you save events to make it easy for you to find them later without hassle.

Embeddable event widgets

– lets you showcase event details in a widget form.

Email

– helps you keep organizers updated about events when submitted, approved and expired through emails.
Pros of WP Event Manager
Easy to use.

It gives users the right to submit event listings both from the backend and frontend.

It is highly compatible with almost all WordPress plugins.

Customization does not affect the actual template.

The plugin is SEO-friendly.

Offers an excellent support.

Gives users the comfort of managing events with the easy to use and functional mobile application.

Tons of add-ons with interactive features to enhance user experience.
Cons
The plugin needs the support of paid-ons to unlock certain features.
WP Event Manager pricing
The paid add-ons offered by WP Event Manager are worth the price as the features are truly amazing. If you are interested to know about their pricing structure click here to get all the details.
Who can use WP Event Manager?
Due to its intuitive user-interface, using WP Event Manager does not require coding. This means, technically anyone who wishes to showcase events on their WordPress website can use it.
The plugin supports both in-person and virtual or live events making it a suitable choice for everyone.
2. The Events Calendar
With thousands of active installs, The Events Calendar plugin comes in both free and paid versions. It lets you create your own event calendar and add unlimited events. The settings section of the plugin provides you the ultimate freedom of managing your event and calendar.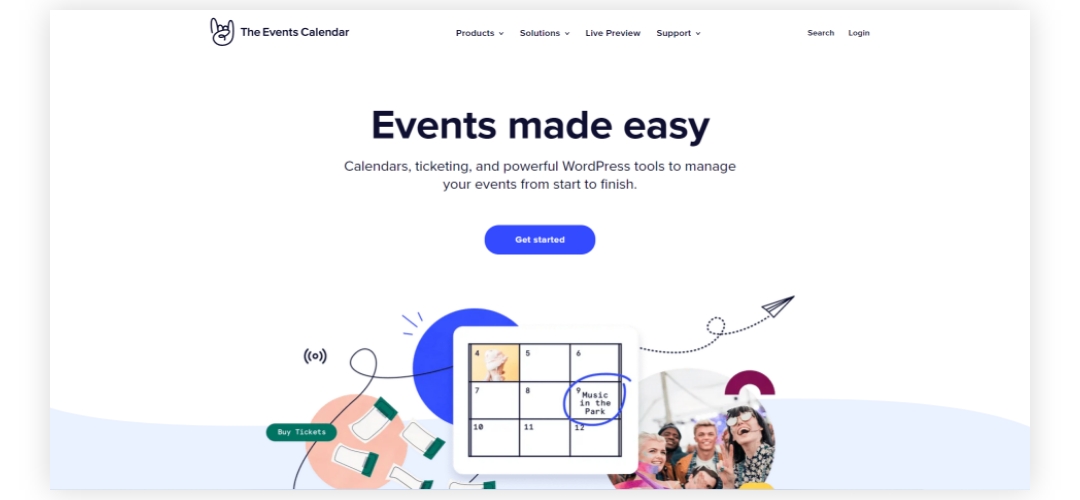 With The Events Calendar, you can add single-day, multiple-days and recurring events.
Key features of the events calendar include:
One of the most unique features of The Events Calendar is that it offers multiple views to your events calendar including day view, week view, month view, list view, map view and photo view.

Users can effortlessly manage virtual and in-person events.

Offers various event categories and tagging facility.

Provides the facility of creating recurring events.

Gives you the freedom to highlight particular events to attract more people toward it.

Offers a built-in CSV file importer to let you transfer other calendar events efficiently.

The freedom to set timezone based on location so that all your clients can be on the same page irrespective of their location in the world during an event.

It has high compatibility with Google calendar and Google Maps.

Allows you to show your event calendar in a widget form anywhere on your website.
Pros of The Events Calendar
Convenient usage as you do not have to go through any complicated process to set it up.

Lets you extensively customize your events calendar.

Quality support.

Multiple calendar views including photo view and map view which can be availed with the paid version.

Offers the facility of adding recurring events.

SEO friendly.
Cons
Some important features like recurring events, photo view etc are only available in the paid version.

Tickets do not have paypal compatibility.
Who is The Events Calendar for?
The Events Calendar is suitable for businesses of all sizes. However, considering its calendar view options it is an ideal choice for the venues that conduct events on a regular basis such as concert halls, bookstores, philanthropies etc.
The events calendar pricing
The core plugin is absolutely free which comes with basic features and the premium version starts from $99 per year for one site with a premium support, various calendar views, additional fields, widgets and recurring events.
3. EventOn
The EventOn Calendar plugin is popularly known for its visually-pleasing designs. Besides having various colors and designs, it is also rich in features that makes displaying events and event management easy for users.
The Eventon calendar plugin comes with responsive designs which ensure that they look good on any screen.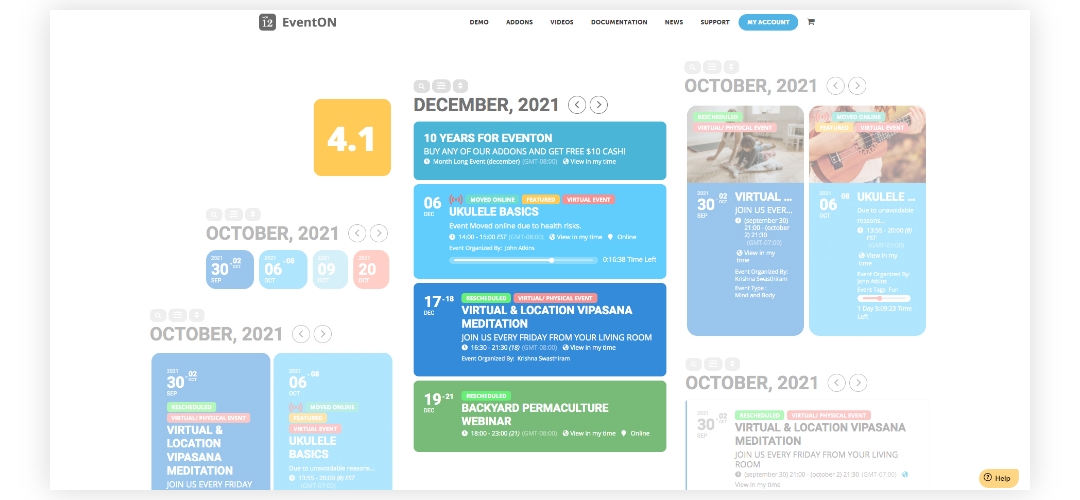 It is easy to add events with the EvenOn plugin and its powerful features let you set recurring events and showcase them in a widget form. It also allows you to create event listings with striking images and add a join option with Zoom.
If you think the features of the core plugin are not enough then you can always switch to its premium version that provides add-ons for subscriptions, event monetization tools, booking system, email reminders and more. Each of them has a different pricing structure.
Powerful features of the plugin includes:
It is an ideal option for creating virtual events.

Allows you to expand calendar details based on the event.

Offers the facility to add multiple images to each events.

Easy event searching facility with multiple filters.

Offers an add-to-Google calendar option.

Customizable date and time format.

Lets you set recurring events with ease.

Developer friendly.
Pros of EventOn
Amazing designs.

Remarkable user interface that makes event management an easy task.

Facility to join virtual events from the calendar.

Core plugin offers various features.

Allows users to represent their calendar with eye catching images.
Cons of EventOn
The pricing structure is a bit confusing.

Some EventOn features may be difficult to understand for users.
Who is the EventOn plugin for?
As mentioned above the EventOn plugin is suitable for almost all sorts of businesses that take appointments or conduct virtual or live events.
EventOn pricing
The core features of the EventOn plugin is available at $25 along with future updates and six months of customer support. The cost of add-ons ranges from $15 per year to $310 per year. They also offer add-on bundles for their users.
4. Amelia
The next in our list is Amelia which is technically a booking plugin with powerful calendar support. Amelia is known for its simple and straight-forward booking functionality and multiple calendar views.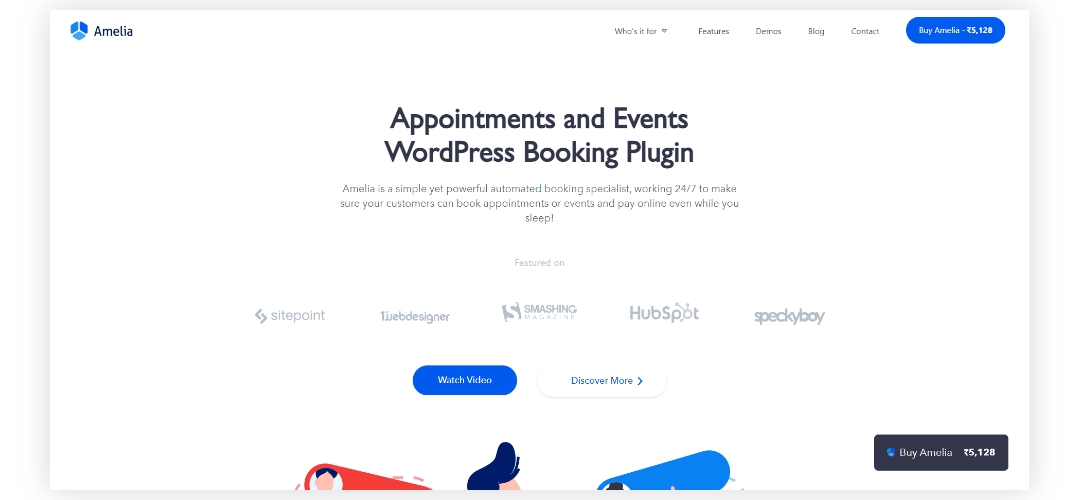 Amelia comes with a modern and sleek design that perfectly fits into any website design. With a convenient usage, it allows you to place your widget anywhere on your website after the installation and manage it through the backend dashboard.
Powerful features of the plugin include:
SMS and email notification to keep in touch with your clients.

Calendar and list view of events.

Automated payment facility with Stripe, WooCommerce and Paypal.

Easily set up recurring events and event tags.

Recurring appointments.

Customizable fields.

Google calendar synchronization.

Outlook calendar synchronization.

WooComemrce integration and more.
Pros of Amelia
Impressive designs.

offers event widgets that can be placed anywhere on your page.

Easily integrates with external calendars.

Customizable fields.
Cons of Amelia
Setting up the plugin might be time consuming at the initial stage.
Pricing structure of Amelia
Amelia comes with mainly three pricing options; the basic is for $59, pro is available at $109 and developer at $249 per year. The thing that differentiates the pricing from each other is the number of websites you can include in each of them.
5. My Calendar
The My Calendar plugin offers a great way to showcase your events in a Calendar. Both free and premium versions of the plugin are available to add more functionalities to your website. This is a fully calendar based plugin that provides you with a list of features that you can utilize as per your requirements.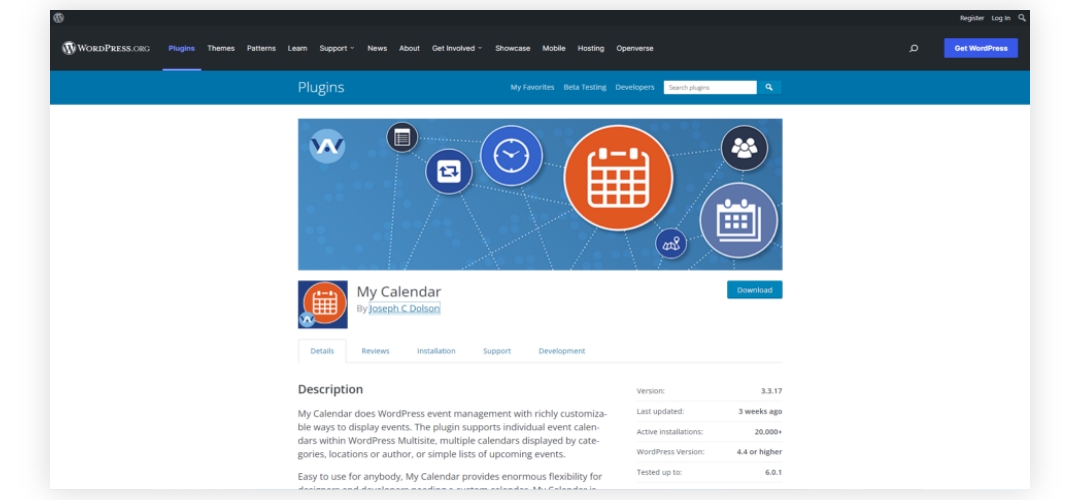 Powerful features of My Calendar include:
Daily, weekly and monthly event views.

Calendar can be displayed in the form of a widget or shortcode.

Availability of list and grid view.

Current events and upcoming events can be showcased in a widget.

Customizable CSS styles.

Facility to set recurring events.

Single occurrence can be edited in recurring events.

Facility to keep organizers updated through emails whenever an event is scheduled or reserved.

Sharing events on various platforms.

Advantage of generating shortcode to create customized views.
Pros of My Calendar
Easy to use and set up.

Availability of various options to customize.

Uncomplicated event management dashboard.

Easy to use on multiple websites.

Twitter configuration.
Cons of My Calendar
Payment required for support documentation.

Only the premium version of the plugin is responsive.
Pricing structure of My Calendar
As mentioned above, My Calendar offers both free and paid versions. To avail the premium version for a year you need to invest $49 but if you want to have a lifetime license then you need to pay $199.
6. Simple Calendar
The Simple Calendar plugin offers the best combination of WordPress and Google Calendar. It allows you to showcase your events, bookings and schedule through a simple and interactive calendar.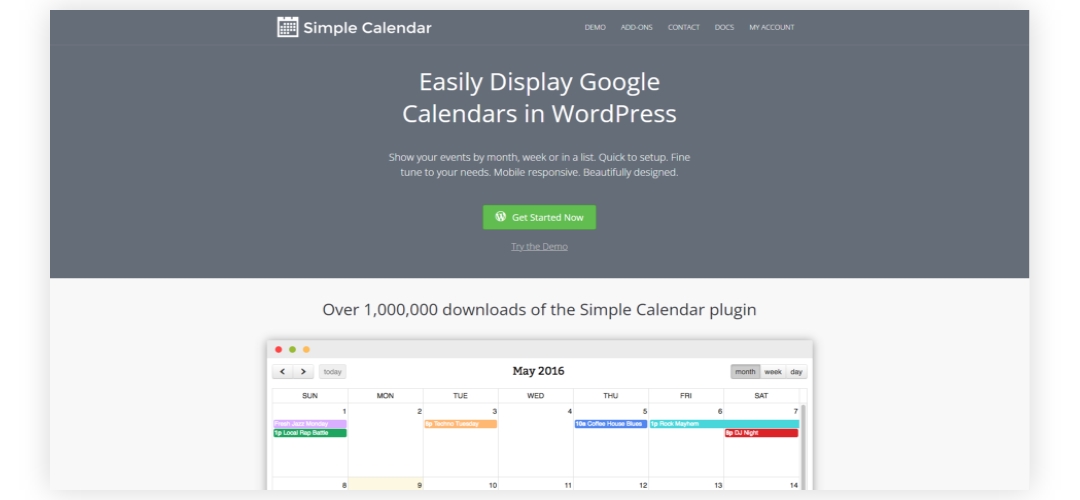 You can easily display your events with weekly, monthly or list views along with crucial updates that you can handle with Google calendar. With the Simple Calendar plugin, event calendars can be showcased in widget forms in the sidebar or footer of your site.
Powerful features of the simple calendar include:
It offers mobile responsive designs.

Allows you to color code your events as per your choice.

Lets you handle your events on Google Calendar and showcase them automatically on your WordPress site.

Offers the facility to add other calendars into one calendar.

The Calendar automatically adjusts itself with the local timezone.

Event details including the event category,color and tags can be customized.
Pros of Simple Calendar
Offers designs that perfectly fits into your theme.

It can be easily translated to offer better user experience to international users.

Fully responsive.
Cons of simple calendar
Add-on features can be availed with additional costs.

Limited support.
Pricing structure of Simple Calendar
The Simple Calendar offers add-ons in bundles only which means you can not purchase add-ons individually. The bundle price starts from $49 for 1 site and goes upto $149 for upto 25 sites.
Final thoughts
I hope the detailed review of the above mentioned Calendar plugins will help you select the one that perfectly suits your business requirements.
WordPress plugins offer the best way to share and promote your events through an engaging Calendar on your site. All you need to do is to select the best one for your events.
Every plugin has its own pros and cons but you must look for the availability or advanced features and a great customer support in the plugin you choose.