7 Exciting Benefits of Hosting a Virtual Event
The word virtual has become a part of our lives due to the pandemic as we strictly have to maintain social distancing. Starting from our worklife to entertainment, today everything has a virtual touch in it. Similarly, the event industry has also embraced the virtual culture.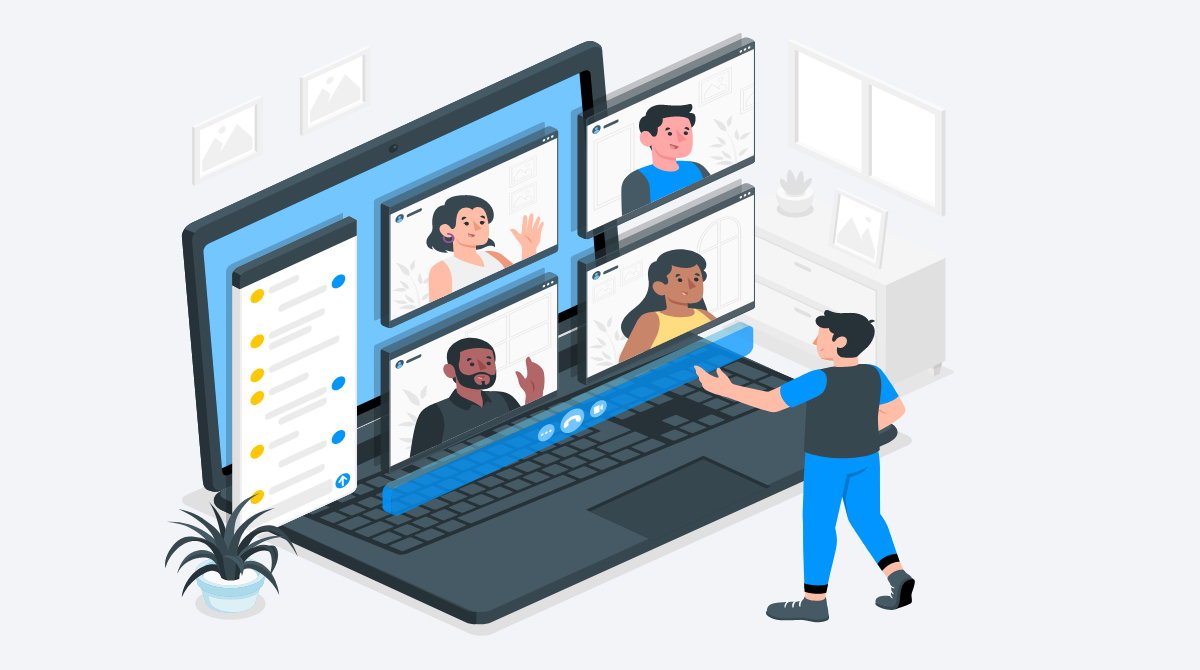 It would not be wrong to say that the concept of virtual events has saved the event industry from a massive loss. The new concept has been started as an alternative to in-person events, but within a very short period of time people have realized its benefits.
If you organize events regularly and still have not stepped into the world of virtual events, you must be aware of its benefits.
Here are the benefits of virtual events
1. Audience reach
Virtual events are popularly known for its capacity to expand your audience reach as people across the world can join such events.
Virtual events are conducted virtually so people can participate in it without being worried about the infection.
Attendees prefer virtual events because it gives them the convenience of participating in an event under the comfort of their homes.
As there is no hassle of traveling, more people can join it.
2. Time-saving
Hosting a virtual event does need some preparations but the time it takes is way less than hosting an in-person event.
In virtual events, organizers do not need to book venues, make arrangements for their attendees at the venue, hire catering services, arrange hotels for national and international attendees and more. So it clearly saves a lot of time that you can utilize in other activities that help you drive more sales.
3. Affordable
Undoubtedly virtual events are much more affordable than the physical ones.
As mentioned in the above point, in online events you do not need to spend on hotel bookings, selecting an event venue, decorating the venue, catering services, and other arrangements which ultimately saves a lot of money in the preparation stage.
You can make your events more affordable by joining hands with WP Event Manager which is one of the leading WordPress event management plugins in the market nowadays. It offers a plethora of addons that perfectly streamline your virtual event management process by adding facilities of an event calendar, selling your event tickets, managing registration & attendees, and engaging your audience.
You can purchase its premium addons individually and in bundles as well. WP Event Manager has recently renewed its pricing structure and divided its addons in four useful bundles that fulfill different event management purposes.
When it comes to hosting a virtual event, we would recommend the Virtual Events Manager pro bundle that contains all the addons that you need to create successful online events.
4. Building connections
Virtual events can greatly help your attendees build successful professional connections.
However, you need to give your attendees the scope to engage. Building networking moments can be a great way to achieve that.
You can add tools like interactive booths, sessions, live chats, Q&A, downloadable resources and more to your virtual events to make them engaging for both the attendees and exhibitors.
Such events also help those who have introverted personalities and often hesitate to open up in the presence of others.
To conduct successful virtual events, you need the support of an efficient WordPress plugin like WP Event Manager's Expo Networking plugin.
It has got some amazing features that take your virtual events to another level:
From trade shows to networking events you can conduct all types of virtual events successfully with the virtual addons offered by WP Event Manager.

It allows your attendees to interact through videos, chats, and audio messages.

Interactive lounge for participants.

Impressive branding and styling on the booths.

Get useful insights on the number of registrations, ticket sales, number of attendees who were present in the event and more.

Sell your event tickets with ease.

Maximize your audience reach and more.
To explore all the features of the virtual addons of WP Event Manager, Visit our addon page..
5. Easy to gather feedbacks from attendees
Whether you are organizing an in-person event or a virtual one, receiving feedback from your attendees is essential for you to improve the quality of your events.
Initiating a survey in an in-person event seems difficult but in online events, you can get real time feedback from your attendees through a form, polls or surveys or recording your virtual sessions and more.
Besides improving your attendee experience in events, taking feedback from your attendees also makes them feel valued.
6. Easy to measure the success of your events
The report or information that a virtual event produces depends on the event management software you use. We would still say that gathering information about an event and framing reports on the basis of that is easier in Virtual events than in physical events.
When it comes to measuring the success of your online events, the Expo Networking addon from WP Event Manager is the best choice for you.
It lets you get the details of when your attendees logged in, from where, how many of them graced your events, the method they used for payments and more.
7. Additional value
When compared with virtual events, in-person events have limited capacity in some areas. For example in virtual events, if an attendee fails to attend he or she can still access the event content later in a downloaded form which is impossible in physical events.
Conclusion
Most of the companies during the covid phase, have shifted from in person events to the virtual ones to save time, money and maintain health.
A study conducted on event organizers has shown that more than 55% of virtual event organizers plan to spend more on virtual events in 2021.
If you want to conduct virtual events you need to have a great strategy, proper planning and the support of a powerful software like WP Event Manager.