Email marketing is an essential part of your event promotion that bridges the communication gap between you and your prospects. However, it only works when you use proper strategies. An event goer receives thousands of such promotional mails everyday which makes it essential for you to use email content that is attractive, short and compelling. Otherwise your mail would only occupy space in their inboxes putting an end to the deal.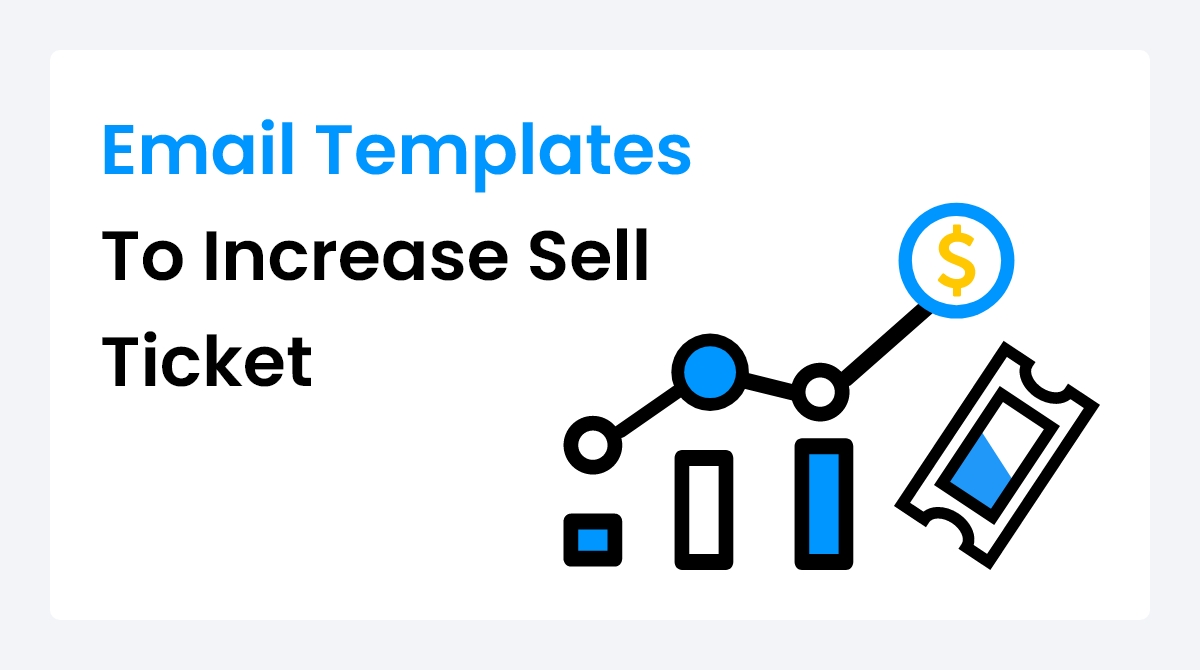 While sending emails to your prospects, always keep in mind that your email content should clearly explain how your products or services are going to help them grow. In today's digital scenario, marketing activities start with an email.
To help you make your email marketing journey successful, we have come up with a list of email marketing templates that would surely amp up your email marketing strategies and catch the attention of your target audiences.
1. Pre-event declaration
The appropriate time for sending this type of mails is a month before your event when you want to reveal something or share a message about your upcoming event with your attendees.
While framing up the body of the email, make sure you put the basic information regarding your event like its location, time or venue at first to help recipients make their decisions easily.
Secondly add the additional information that you want your prospects to know to persuade them to purchase tickets for your event.
The email template would look like the following:
Subject: Add a line to describe the subject of your email.
Email body: Mention the date, time and venue of the event at the beginning of the email message. Then proceed with the announcement that you want to make about the event.
Call To Action
Add Call to Action right after the email body mentioning the details of your event activities, sessions and speakers.
Once you successfully create an event page on your website, the next step is to sell tickets for the same. Effective email marketing strategies can help you accelerate your ticket sales to a great extent.
You can utilize the early bird technique to create a sense of emergency so that interested people can quickly make their decision to purchase tickets at a discounted price.
On the other hand if you do not want to go for the early bird offer, you can also tell your audience that the last year's tickets were sold out within a short period of time asking them to not delay if they are interested in buying tickets for your event.
Here is the template that you should follow to write such emails for the marketing purpose.
Subject: Add a suitable line describing the subject of your email.
Email body: As mentioned above, you can write it in two ways-
If you are going to offer a special discount for early ticket buyers for a limited period of time, you can write that here or.

You can also share how your tickets were sold last year within a week or a short period of time instead of following the early bird technique.
Then add CTA.
3. Targeted email to upsell
Use this type of email template when you want your last year's event attendees to attend the upcoming event. To encourage them you can offer them VIP ticket packages.
Send such emails to your loyal and valued customers instead of everyone. For instance, target those attendees who graced your event last year or at least two or three events in a row.
Subject: Add a suitable subject based on the email content.
Email body:You can start the mail with a thank you note for being one of your loyal customers or attendees. Then proceed with your offerings to them stating that this offer is only for their esteemed customers and the recipient is one of them.
CTA
4. Emails to create urgency
This type of email template is suitable when you want to push your audience to purchase your event tickets as soon as they can. For example, you can announce that the event ticket prices are going to increase in a few days due to high demand. You can use this trick event if you are not going to boost the ticket prices. It works like an alarm for the people who are interested in joining your event.
This is one of the most effective techniques to maximize ticket sales, especially when your tickets are not selling out.
Subject: add a subject that perfectly describes the alarming situation.
Email body: Mention a time period after which there will be a hike in your ticket prices so that the attendees would purchase the tickets within that time frame.
CTA
5. Send email reminder through mails
The main purpose of such events is to remind your attendees about your upcoming event and it must be short and crisp. This is because short messages always attract recipients and also increases the chances of being seen.
Reminder email template:
Subject: as usual you need to start with a suitable subject.
Email body: Start with mentioning the sentence that contains your event date, time and venue. Then highlight some of the crucial information in bullet points to get the attention of your target audience. Such information includes,
The right time to reach.

Any security restriction that they need to know before arriving.

Parking or other transportation details etc.
You can also create a specific page containing FAQs and use the link in this mail to solve all their general queries.
6. Post event thank you mail
This type of email can be sent once your event is over and you want to get feedback from your attendees about their experience. Such emails need to be personalized. In order to add a personalized touch to your emails, you can mention each recipient's name in the content. This increases your mail's chance of being noticed.
Subject: Try adding a thank you note to the mail subject.
Email body: Begin the email body by thanking your attendees for attending your event. Then ask them to share their feedback about their experience in your event.
CTA
Add a link in the CTA to redirect them to the survey page.
7. Event safety measures
Email related to the safety rules in your event is crucial to create a safe environment for your attendees. This is to let your attendees understand that you are leaving no stone unturned in ensuring their safety.
Subject: Do not forget to mention about the covid safety measures in your subject.
Email body: Begin your email body by mentioning the date, time and venue of your event and add a sentence to express how eagerly you are waiting for their arrival. Then make it clear that their safety is your priority and that is why you have taken some precautionary measures as per Government guidelines to avoid any kind of health issues during the event. State all the facts in bullet points so that they read them all.
8. Announcement for last minute changes or refund
Such emails are mainly written for event cancellation or refund related issues. Sometimes you need to cancel your planned events due to some unavoidable circumstances. In such a situation, you need to keep your attendees well informed about it and also initiate a refund for the same.
You can utilize this template not only for event cancellation but also if you postpone your event for some reason.
Subject: You can simply write an important announcement regarding your event in the email subject.
Email body: While writing the body of your email make sure you state the reason behind your event cancellation along with the name, date, time and venue of your event. For example you can write " due to a sudden rise in Covid cases or weather related conditions your event(name) dated on (date) scheduled at (time) at (location) had to be canceled.
You must also add a line in your mail stating that considering the current situation you think this is the best decision you can take to ensure the safety of each attendee.
Do not forget to mention your refund plans to gain the trust of your attendees. For example when are you going to initiate the refund for them or when should they expect to receive it along with the entire refund process.
Your name and Company name.
Additional tips:
When it comes to email marketing, following only a good email template is not enough to win the game, you must also have the support of good tools to streamline the process. For example, when you want to send personalized emails to your attendees as a marketing activity, you must be well informed about the recipient and doing this manually leads to many errors which is certainly not desired. Then what is the solution? The answer is WP Event Manager plugin. It offers various CRM add ons including , Hubspot CRM, Sendinblue and more to help you manage your attendee data by synchronizing them which ultimately helps you strengthen your marketing strategies.
If you think you are not getting the desired results from your marketing activities and want to strengthen the entire process, then you can go for the All Events Manager Pro bundle offered by WP Event Manager that is packed with marketing and other useful event management addons to help you manage your events more efficiently and maximize your income from them.
Wrapping up:
We hope that these email templates will help you write solid email copies and improve your marketing efforts. So you need to keep in mind mainly three areas in the email copy, subject, email body and conclusion. Try to always be creative and straightforward to state facts clearly and make the copy short and crisp to make sure that your receivers open and check the mail.